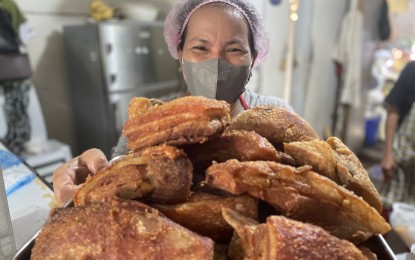 LAOAG CITY – Minimum wage earners from the private sector in the Ilocos Region will start receiving the second round of their salary hike this month, the regional Department of Labor and Employment (DOLE) said Friday.
DOLE Ilocos Region director Exequiel Guzman said this is good news and a big help for workers and employees in time for the Christmas season to make ends meet.
Under Wage Order RB1-21, non-agricultural and agricultural private employees will receive a pay hike ranging from PHP60 to PHP90 daily, given in three installments.
The first increase in the daily wage took effect last June, followed by the PHP30 to PHP47 wage hike this month for agriculture and non-agriculture workers. The third round of the daily wage increase will take effect in March 2023.
"Effective December, the highest minimum daily wage for workers in the region will be PHP400," said Guzman as he reported that the department continues to monitor the social and economic indicators, especially so that inflation keeps on rising, which results in to increase in prices of commodities.
Except for business establishments that applied for exemption due to the impact of the pandemic and other natural and human-induced disasters, Faye Marie Sabate, Attorney IV of the Regional Tripartite Wages and Productivity Board in Region 1, said Friday the "implementation of the new wage increase shall apply to all minimum wage earners in the private sector in Ilocos region, regardless of their position, designation, or status and irrespective of the method by which their wages are paid."
To be exempted from the new wage order, businesses in the retail/service sector employing not more than 10 workers may submit their application for exemption, including their affidavit of the undertaking and certified true copy of their business permit, to the RTWPB Region 1.
On the other hand, micro and small enterprises shall submit their affidavit stating the impact of the pandemic on their business operation, as well as audited financial statements for the past two years stamped and received by the Bureau of Internal Revenue. (PNA)