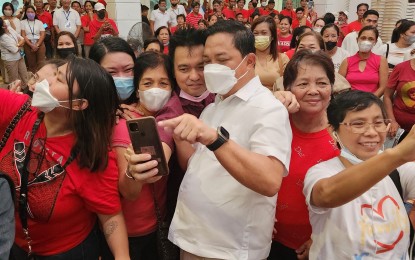 LEGAZPI CITY – Ousted Albay Governor Noel Rosal thanked his supporters late Thursday evening as he posted his goodbye message on his Facebook account.
This, after the Commission on Elections (Comelec) directed the Department of the Interior and Local Government (DILG) to enforce a writ of execution and remove Rosal from his post, to be replaced by Vice Governor Edcel Greco Alexandre Lagman.
"Mga namomotan kong mga Albayano, salamat sa saindong pagmakolog kang sagradong boto nindo. Salamat man tabi sa suporta nindo sako sain man kamo digdi sa Albay (To my beloved Albayanos, thank you for your concern on your sacred votes. Thank you for your support wherever you live here in Albay)," Rosal said.
He also asked his supporters to remain calm and not to resort to violence over his ouster.
"Habo ko tabi na dahil sa paki paglaban nindo baka may makologan na Albayano. Dai ko tabi mapapatawad ang sadiri ko bilang saindong ama, gabos kita Albayano, proteksyonan ta ang bawat saro (I do not want that because of your resistance, an Albayano would get hurt. I can't forgive myself as your father, we're all Albayanos, let's protect one another)," he said.
Rosal said he has served as Albay governor for five months "(and) it is a great honor."
"Kahit papano naka pagsirbi man ako ki maray saindo ..mapaaram muna ako saindo tabi. Sa aga tabi dapat normal na kita sa capitol (At least, I served you all well. I will, in the meantime, say goodbye to you. Tomorrow, we should be back to normal in the capitol. It is not the end of the world yet. Keep calm and I thank you," he said.
Earlier on Thursday, DILG-5 (Bicol) Regional Director Arnaldo Escober Jr. officially served the writ of execution issued by the Comelec en banc disqualifying Rosal as governor.
Lagman and Board Member Glenda Bongao then took their oath as governor and vice governor, respectively.
The Comelec ruled that Rosal violated Section 261(v) of the Omnibus Election Code which prohibits the release and disbursement or expenditure of public funds during the 45-day election ban.
The Comelec, in its order issued on Nov. 28, sought a "peaceful and smooth turnover" of the gubernatorial post following the rules on succession.
Meanwhile, Lagman has laid down his 10-point agenda as he started his new administration.
In a statement on Thursday, he said the new leadership of the province will be supportive of and cooperative with the national administration's agenda and policies "particularly for speedy economic recovery, enhanced local government autonomy, pro-people socio and economic reforms, rational land use allocation, utilization, development and management, achievement of food security, essential electoral reforms and genuine people empowerment."
Lagman said education is his top priority, apart from ensuring adequate power supply, boosting tourism and promoting the province as an investment destination.
"The new leadership will spur growth opportunities by expanding markets extensively and allowing businesses and start-ups to flourish while protecting the environment. We will generate local and international investments and promote the province as an investment destination in the Philippines. We aim to unite the government and the private sectors. We strive to strengthen democratic institutions and consultative bodies so that no sector will be left behind," he added.
Lagman also pledged to put a premium on the interest and welfare of Albayanos over partisan and transactional politics.
"The Lagman brand of principled governance, accountability to the people, rejecting political vendettas, and integrity in public service will be the hallmark of my administration," he said. (PNA)