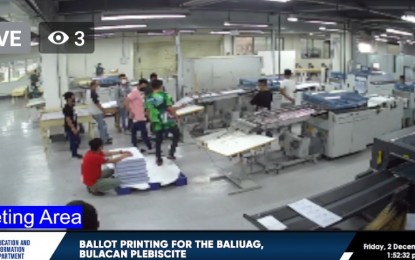 MANILA – The Commission on Elections (Comelec) on Friday finished the printing of over 108,000 official ballots for the plebiscite to ratify the cityhood of Baliwag town in Bulacan on Dec. 17.
"(The) printing of 108,572 official ballots for the December 17, 2022 Baliwag Plebiscite (is) completed as of 10:58 am, December 2, 2022 by the National Printing Office," Comelec spokesperson John Rex Laudiangco said in a statement.
He said the sheeting and cutting of the ballots started at 1 p.m. which would be followed by verification of the ballots' quality and quantity.
The Baliwag local government unit has allotted a budget of PHP24.27 million for the conduct of the plebiscite.
Laudiangco said Comelec chairperson George Garcia, commissioner-in-charge for plebiscites Commissioner Aimee Ferolino, together with other poll body officials would oversee the plebiscite.
Republic Act 11929, which converts the municipality of Baliwag in the province of Bulacan into a component city, lapsed into law last July 29. (PNA)