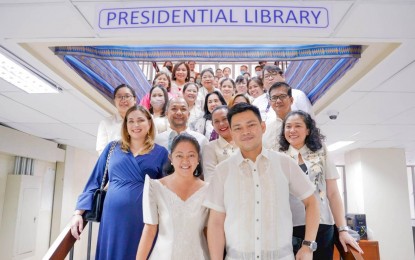 MANILA – Several book collections from Malacañan's Presidential Museum and Library can now be accessed at the National Library of the Philippines (NLP) building in Ermita, Manila.
This, after First Lady Louise "Liza" Araneta-Marcos led Tuesday the launching of the Presidential Library at the second floor mezzanine of the NLP building.
Araneta-Marcos thanked the NLP for ensuring the success of the establishment of the Presidential Library.
"When my husband (President Ferdinand R. Marcos Jr.) assumed office last June, we noticed that there were piles and piles of books on Philippine culture and heritage in Malacañan Palace. There were also hundreds of law books, some of them were first editions, priceless that many law students would have lusted after," she said.
"Thank you again for helping us with this Presidential Library. Your passion and dedication in promoting learning and researching for our youth and future leaders are indispensable tools in nation-building," the First Lady added.
The Presidential Library Project was initiated by Araneta-Marcos, with the assistance of the NLP.
Araneta-Marcos also emphasized the importance of libraries in learning and development.
"Our libraries are here to stay. Library serves as a haven for students, researchers, members of the academe, and practically everybody, rich or poor [people] who want to know more about our history and our country," she said.
A memorandum of agreement was signed to allow the sharing of some of the books from Presidential Museum and Library for easy access of the public, the NLP said in a statement posted on its official Facebook page.
The launching of the Presidential Library coincided with the NLP's closing ceremony for the 32nd Library and Information Services Month.
The NLP is the repository of the printed and recorded cultural heritage of the country and other intellectual, literary resources and information sources. (PNA)