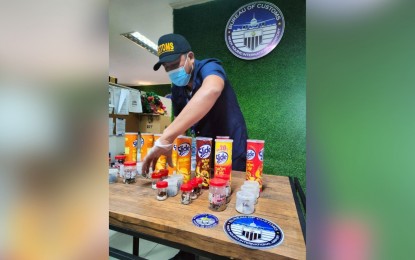 MANILA – Customs officers at the Ninoy Aquino International Airport (NAIA) have foiled a recent attempt to smuggle wildlife after intercepting 23 tarantulas that were declared as "snacks and other food items".
In a statement Friday, BOC-NAIA District Collector Carmelita Talusan said the parcel that arrived from Hanoi, Vietnam which was consigned to a claimant in Makati City was seized at the Central Mail Exchange Center in Pasay City on Nov. 21.
The spiders were concealed in plastic containers labeled as potato chips and were discovered upon examination.
All 23 tarantulas were immediately turned over to the Department of Environment and Natural Resources (DENR) for monitoring and safekeeping.
She added that the illegal shipment violates Section 1113 in relation to Sections 117 and 1401 of RA 10863, the Customs Modernization and Tariff Act, and Section 27 of RA 9147, or the Wildlife Resources Conservation and Protection Act.
This year, the Port of NAIA has seized several exotic aquatic wildlife species from different countries.
Talusan said the port is also one with the DENR in upholding wildlife protection and its conservation initiatives. (PNA)