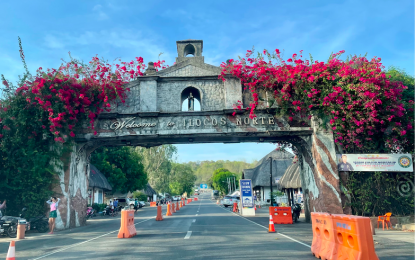 LAOAG CITY – Ilocos Norte has retained its title as the least poor province in the Ilocos Region with the lowest poverty incidence of 2.5 percent, according to the latest report of the Philippine Statistics Authority (PSA) which is released every three years.
Gervy James Gumarit, head of the communication and media office of the Ilocos Norte government, said Friday this significant development could be attributed to the numerous programs of both local and national governments to create more jobs and livelihood opportunities for the locals.
The PSA defines poverty incidence as the proportion of families (or population) with per capita income less than the per capita poverty threshold to the total number of families or populations.
Amid the effects of the coronavirus disease 2019 (Covid-19) pandemic, including income and employment losses, Ilocos Norte was the only province in the region to have decreased poverty incidence among the population in 2021 compared to 2018.
From 4.5 percent in 2018, Ilocos Norte's poverty incidence was reduced to 2.5 percent in 2021, followed by La Union province with 9.3 percent from 4.4 percent, Ilocos Sur with 15.1 percent from 7.5 percent and Pangasinan with 17.9 percent from 12.9 percent during the same period.
Meanwhile, the region's unemployment rate went down to 5.3 percent in 2019 from 8.9 percent in 2017 but increased significantly in 2020 to 13.4 percent due to the pandemic.
With the government's various measures to assist people in crisis situation and the continuing provision of emergency employment and livelihood assistance, the unemployment status in the region improved in 2021 to 8.2 percent. The figure, however, is still higher than in pre-pandemic times.
For the past 10 years, the PSA has already listed Ilocos Norte, which is a first-class province in terms of income, as one of the provinces with the lowest poverty incidence.
To sustain the low poverty status in the province, the Ilocos Norte government has been prioritizing programs on poverty reduction, ensuring that no Ilocano is left behind in terms of agriculture, health, education, jobs, and livelihood, among others.
"The future is bright to all of us," said Governor Matthew Joseph Manotoc as Ilocos Norte sustains its lead in agriculture and tourism, and strives to raise the efficiency of its healthcare system, preserve livelihoods and create jobs with its award-winning employment initiatives, among many others. (PNA)