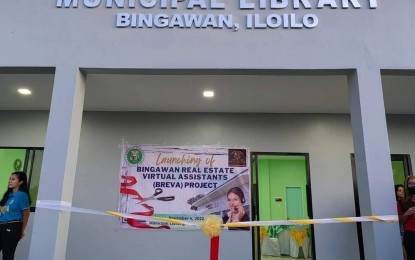 ILOILO CITY – The Municipality of Bingawan, a fifth-class town in the province of Iloilo, has found an ally in the business process outsourcing (BPO) industry in providing jobs to its constituents and reviving its economy.
Mayor Mark Palabrica, in an interview on Friday, said the Bingawan Real Estate Virtual Assistants (BREVA) was realized through the Public Employment Service Office (PESO) in partnership with the Bingawan Pagnahi-an Women & Youth Organization, Inc.
"The initiative was due to the impact of the Covid-19 pandemic when the economy was affected, most especially the employment of our constituents," he said.
BREVA is a non-voice firm serving four United States-based realtors, particularly from Maryland, California, and Florida.
Palabrica said the project has its difficulties since telecommunication is a challenge and even facilities.
The local government has temporarily allowed the use of its municipal library for its 20 workers during nighttime and provided them with free electricity.
The Department of Information and Communications Technology (DICT) has helped with their facilities while a private telecommunications firm provided the needed internet connection.
Interested applicants underwent training offered by the local government unit (LGU), DICT, and other BPO experts.
Those who passed the training process is assured of placement. Their salary is also performance-based.
"In terms of manpower we really encourage Bingawan residents to apply," Palabrica said.
The town mayor said that working in Bingawan is an advantage since the cost of living is low, workers don't have to rent a boarding house unlike when they are working in the city, as well as they won't be shelling out other miscellaneous expenses since they are just live near their workplace.
"The cost of living is very low. Imagine a fifth class municipality," he added.
Having a BPO firm is also an advantage to the LGU since the workers will also be spending their income in the locality.
The BREVA started its operation on Nov. 4, 2022.
While the priority will be residents, Palabrica said they might recruit from other towns when needed. (PNA)