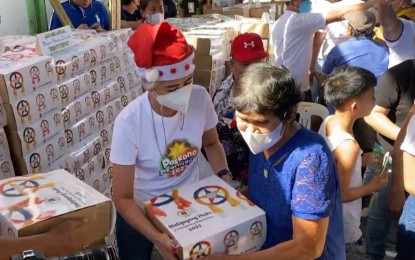 MANILA – The Manila city government on Friday announced that it has so far distributed some 200,000 Christmas food boxes to residents.
"As of this morning, December 2, 2022, Mayor Maria Sheilah "Honey" Lacuna-Pangan, together with Vice Mayor John Marvin Yul Servo Nieto, Congressmen, and members of the City Council, finished the first round of distribution of the Christmas food boxes in all six districts of Manila for this year's #PaskongManileño2022 celebration," the Manila Public Information Office (MPIO) said in a statement Friday.
Some 227 barangays were included in the first batch of distribution which kicked off on Thursday.
It added that the city government will be distributing close to 700,000 boxes.
"The City of Manila is expected to finish distributing the almost 700,000 boxes by December 12, 2022," it added.
Each box contains assorted canned goods for "noche buena" (Christmas Eve dinner) such as corned beef, fruit cocktails, spaghetti sauce and noodles, milk and cheese. (PNA)