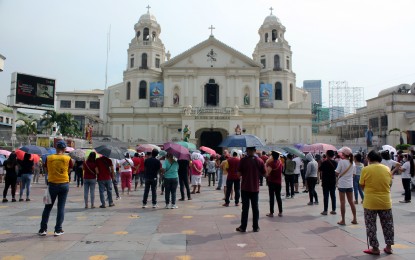 MANILA – Some activities prelude to the celebration of the Feast of the Black Nazarene on Jan. 9, 2023 have stated.
According to the organizers of the much-anticipated annual event, the "pagdalaw" or the visit of the image of the Black Jesus Christ to different cities has started so as to discourage devotees to flock to the event in Manila next month.
The schedule of the visit will be from Dec. 1-15 and Dec. 27-29. For the dates and time of the visit to different places in the country, the public is advised to check the social media pages of the Minor Basilica of the Black Nazarene.
The Quiapo Church also reminded devotees that the blessing of the replica of the Black Nazarene and banner (estandarte) will be conducted for three days to accommodate all those who want their images and banners to be blessed.
The blessing is scheduled from Dece. 27 to 29, 2022. It will be held at Plaza Miranda.
Devotees are advised that there will only be one entrance and exit to manage the flow of people. The entrance will be in Carriedo while the exit will be in Quezon Blvd.
The Thanksgiving motorcade will start at 11:00 p.m. on Dec. 30, 2022. The organizers released the route which is as follows:
From Plaza Miranda - Straight to Villalobos, turn right - Carlos Palanca, then right - Plaza Lacson, Right - Carriedo, Left - Evangelista, Right - Gonzalo Puyat, Right - Quezon Blvd., Left - Ilalim Palanca, Left - Quezon Blvd., Right - Arlegui, Left - Legarda, Left - Conception Aguila.
Also, Right - Carcer, Right - Hidalgo, Left - Bilibid Viejo / G. Puyat, Left - Guzman, Right - Hidalgo, Left - Quezon Blvd., Right - Ilalim Palanca, Right - Villalobos, Plaza Miranda / Quiapo Church.
For three days, Jan. 7-9, 2023, the Black Nazarene image will be on display at the Quirino Grandstand.
On Jan. 8, there will be a Walk of Faith procession from Luneta to the Basilica after 12 a.m., after which a mass will be held to be officiated by Fr. Rufino Sescon Jr., rector of Quiapo Church.
The Feast Day Mass to be held on Jan. 9 at 12 a.m. will be headed by Manila Archbishop Cardinal Jose Advincula. (PNA)