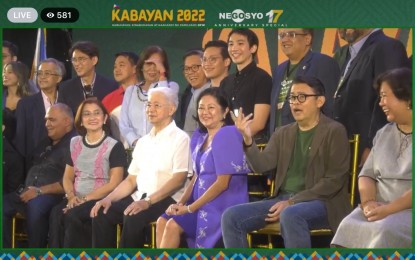 MANILA – President Ferdinand R. Marcos Jr. has granted PHP200,000 each to the nine recipients of the 2022 Kabayan Awards conferred on inspiring overseas Filipino workers (OFWs).
The granting of cash reward was announced by First Lady Louise "Liza" Araneta-Marcos who graced the Go Negosyo's Kabayan 2022 event held on Saturday at SM Mall of Asia in Pasay City.
"Pinapasabi ho ng asawa ko na meron siyang bonus sa mga awardees na tig- PHP200,000 each (My husband wants you to know that he will give each awardee a bonus of PHP200,000 cash). Merry Christmas, everybody. Thank you to the awardees. Congratulations," Araneta-Marcos , who attended the Go Negosyo's event on behalf of the President, said.
During the Kabayan 2022 awarding ceremony, Alvin Esperida (Bodega ni Tatay); Angelito Castro (Angel Castro Aqua Ventures); Madel delos Santos (Ledam's Collections Company); Mark Durotan (Diko's Food Processing & Diko's Integrated Farm); Marvin Intal (Intal Garments); and Elpidia Abel (active OFW for 30 years) were named "Inspiring OFW" awardees.
Anthony Leuterio of Filipino Homes, Jeffrey Guansing of Team Harabas, and Malou Prado of MPQ Travel & Tourism Dubai, were hailed as "Honorary OFW" awardees.
The theme of the Kabayan 2022 event is "Kabuhayan, Kinabukasan, at Kaagapay ng Pamilyang OFW."
In his message for the event, Marcos assured the OFWs of his administration's full support as they begin their journey toward entrepreneurship.
"As President, I assure you that the national government will continuously work to ensure the welfare and competitiveness of our OFWs during my administration. We will continue to pursue initiatives that will ensure your well-being and develop anew the skills that the global workforce requires," Marcos said.
"At the same time, we will open up more and better opportunities for you at home so that you can help us in writing a new and vibrant chapter for our great nation," he added.
Marcos gave the assurance, as he believed in the OFW's potential, noting their significant contributions to the Philippine economy and labor force.
"In our country's most trying times, you remained as a solid foundation of our economy, ensuring the generation of remittances to support your loved ones and keep our country afloat. For all this, I thank you," he said. "In today's activities, we aim to make entrepreneurship as an avenue where we can help OFWs and their families generate additional income to support their needs."
Marcos also encouraged the OFWs to tap on their "entrepreneurial spirit and your ingenuity that is uniquely Filipino."
He expressed optimism that entrepreneurship will give OFWs an option to come back home, with the ultimate goal of making working abroad "a choice rather than a necessity."
"May these activities today serve as your guiding light as you pursue the next chapter of your livelihood that will allow you not only to contribute to our local economy but also to enrich the quality of lives of your loved ones," Marcos said.
"I trust that the activities ahead will shed light on topics such as financial management, smart investing, discerning business opportunities, and many others that will provide our OFWs in their reintegration into our economy as entrepreneurs," he added. (PNA)