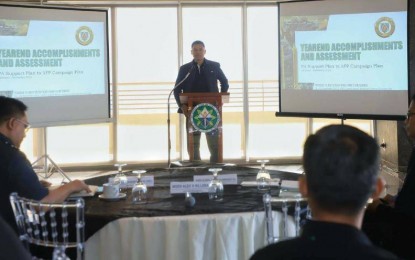 MANILA – The Philippine Army (PA) is committed to developing its ground forces to address all types of security threats.
This was stressed by PA assistant chief-of-staff for operations, Col. Alvin V. Luzon, during the just-concluded Year-end 2022 Operations Family Conference held Friday at the SOTO Grande Hotel along Katipunan Avenue, Quezon City.
During the briefing, the Army official presented a rundown of PA accomplishments based on its mandate to develop, organize, train, equip, support, and sustain ground forces for the execution of the Armed Forces of the Philippines (AFP) mission.
"Col. Luzon highlighted PA's thrust to develop the capability of ground forces to address all types of threats and raise the current operational tempo of ground units," said Army spokesperson, Col. Xerxes Trinidad, in a statement forwarded to reporters Saturday night.
Likewise, Luzon also gave an update on measures undertaken by the PA leadership to provide ground units with mission-essential equipment and programs being implemented to bolster its operational tempo in executing the AFP's campaign.
"On the whole, the PA as a force provider will continue to effectively perform its core functions to capacitate the PA forces to support the successful execution of the AFP line of efforts and operations," Luzon said.
He added the PA will pursue its charted course towards capability and organizational development and be postured to remain responsive to meet the challenges brought about by the continuously evolving security environment. (PNA)