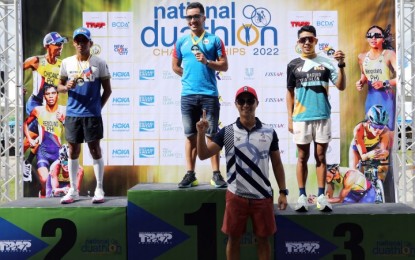 MANILA – Filipino-Spanish Fernando Jose Casares lived up to expectations after ruling the sprint distance men's elite category of the 2022 National Duathlon Championships at the New Clark City Sports Complex in Capas, Tarlac on Sunday.
Born in Madrid to a Spanish father and a Filipino mother, the 2021 Vietnam SEA Games gold medalist Casares finished the 5,000(run)-20,000-(bike)-2.500(run) race in 58 minutes and 3 seconds to beat fellow national athlete John Chicano Leerams of Olongapo City (58.09) and promising duathlete Maynard Pecson of Baguio City (58.13).
"I'm glad I had a good performance here," said the 26-year-old Casares, whose mother is from Valenzuela City. He got his dual citizenship in 2018.
Casares had competed at the World Games in Alabama, USA last July. He also won the mixed relay gold medal with Chicano, Kim Mangrobang, Clair Adorna at the 2019 Manila SEA Games.
In the women's category, Cebuana Raven Faith Alcoseba clocked 1 hour, 6 minutes and 32 seconds to claim the gold medal.
"The course was challenging, I'm happy to win," said the 20-year-old civil engineering student from De La Salle University. She debuted in the 2021 Vietnam SEA Games with a bronze medal in triathlon.
The 5-foot-2 Alcoseba, who hails from Talisay in Cebu, defeated Singaporean Louisa Middleditch (1:07.10) and Merry Joy Trupa of Tarlac City (1:08.50).
Matthew Justine Hermosa, also a native of Talisay, registered 1:01.46 to pocket the gold medal in the junior elite men's category of the tournament organized by the Triathlon Association of the Philippines (TRAP) headed by Tom Carrasco Jr.
Irienold Reig Jr. of Batasan Hills in Quezon City took the silver medal with a time of 1:02.40 while Aidan Reed Mercado, a grade 12 student from Muntinlupa National High School, settled for the bronze medal with a time of 1:03.24.
The top three winners in the junior women's elite category were Jena Valdez (1:11.35), Lady Samantha Jhunace (1:11.39) and Sophia Kyra Capistrano (1:14.49).
Meanwhile, Bases Conversion and Development Authority Senior Vice President for Corporate Services Group Arrey Perez appreciated the feedback from the participants of the race supported by the Philippine Sports Commission.
"They are happy that the event was held here. The set up was very nice. The venue was really world-class," said Perez, who served as mayor of the 2019 SEA Games Athletes Village inside the New Clark City Sports Complex.
The National Duathlon Championships is part of the selection process in choosing the athletes who will compete at the 2023 SEA Games in Cambodia. (PNA)