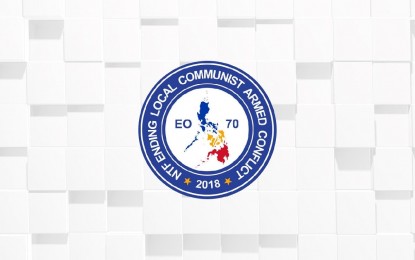 MANILA – The National Task Force to End Local Communist Armed Conflict (NTF-ELCAC) on Monday thanked health experts who willingly offered their services and expertise to help "friends rescued", or those previously identified as "former rebels" (FR), get over their mental health issues.
"On behalf of NTF-ELCAC, let me extend my heartfelt gratitude to Dr. Moibe Olitres for catering to the needs of our 'friends rescued'. Dahil sa kanya at sa ating health experts na taos-pusong tumutulong, nabigyang pansin ang pangangailangan ng ating mga FRs, particularly na nga itong mental health (Due to her help and other health experts who have whole-heartedly gave their assistance, the needs of our FRs, especially those concerning mental health, are provided for)," said NTF-ELCAC Secretariat Executive Director Emmanuel Salamat in a statement.
Salamat said the help of Olitress and other health experts made them realize how indispensable the active participation and solidarity of medical practitioners from both the private and government sector.
"This is the essence of a whole-of-nation approach in addressing the communist armed conflict."
One of the highlights of the upcoming NTF-ELCAC's fourth anniversary celebration on Dec. 9, is the launching of the book, "Beyond the Surface: Story of Resilience and Redemption," authored by Olitres.
In her book, Olitres delved deep into the psychology of those who took an active part in the armed rebellion, in order to provide readers with a profound understanding of the FRs and those who are still under the influence of the communist terrorist group.
Salamat is also grateful to Olitres for mainstreaming the mental health issues of those who were deceived to bear arms against the government.
"It is very important to discuss these issues with experts on the field so that everyone will have a better grasp of what is really going on. This is how we realize one of the President's agenda - the protection of (the) cognitive domain. This is how we discern truth from lies," the NTF-ELCAC official said. (PNA)