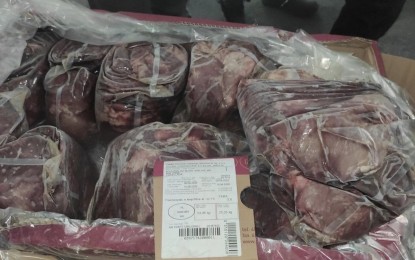 MANILA – The Bureau of Customs (BOC) on Monday reported the seizure of PHP63 million worth of smuggled frozen foods contained in shipments that recently arrived from Hong Kong and China at the Manila International Container Port (MICP).
In a statement, Commissioner Yogi Filemon Ruiz said the Customs Intelligence and Investigation Service (CIIS)-MICP received information about two containers from Hong Kong and two containers from China declared to have thousands of kilograms of frozen prawn balls.
Each container was alleged to contain PHP15.75 million worth of misdeclared goods.
"But in reality, these four containers contained other frozen foods that the consignees did not declare in their manifest. I have personally expressed my confidence to the team, and thanked them for their relentless pursuit of these smugglers. We are simply complying with the directive of our President to continue our drive against the smuggling of agricultural products and protecting our markets and the prices of our products," Ruiz said.
Customs Deputy Commissioner Juvymax Uy said the agency issued two Alert Orders (AOs) against the Victory JM Enterprise OPC, the importer of two containers from Hong Kong, both declared as containing 25,000 kilograms of frozen prawn balls that arrived on Nov. 17.
But upon inspection, the first container had frozen tofu, chicken paws, and boneless beef, while the second container also had frozen tofu, Vietnamese suckling pig, and beancurd skin.
Meanwhile, two more AOs were issued on two containers that arrived from China on Nov. 18.
The containers were also declared to have frozen prawn balls but actually had frozen fish tofu and frozen beef cheek meat.
"These operations ensure that we are sending the right message to these smugglers—we are not going to back down. I encourage our team members to remain committed to this goal and use their experiences to be one step ahead of these people we want to put behind bars," the BOC official added.
The consignee will face charges in violation of Sec. 1400 (misdeclaration in goods declaration) in relation to Sec. 1113 (property subject to seizure and forfeiture) of the Customs Modernization and Tariff Act (CMTA).
The CIIS-MICP had recommended the issuance of a warrant of seizure and detention (WSD).
Meanwhile, CIIS Director Jeoffrey Tacio gave credit to the team that inspected the containers, lauding their commitment to stop such activities.
"We have been working double time since receiving the information about these containers. With prices of our goods going up, it is all the more important that we do our best to protect the borders and make sure that none of these smuggled products enter our markets," he said. (PNA)