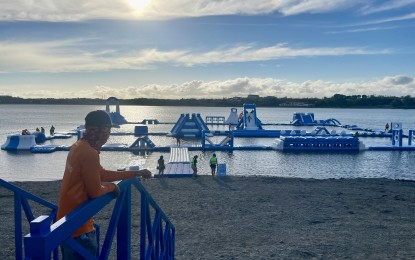 LAOAG CITY – The Ilocos Norte government is taking over the management of Malacañang of the North complex to further entice tourists and bring in investment opportunities to the area, provincial tourism officer Aianree Raquel said Monday.
As one of the tourism magnets of the province, Raquel said they have prepared several activities in the area this month while offering special discounts and promos for visitors.
"Right now, the management is under a special group who has been earlier trained to manage and maintain the facilities," said Raquel, referring to the Paoay Lake Water Park, which is being promoted by the Ilocos Norte government as one of the latest "new normal" attractions at the Malacañang of the North tourism complex.
The complex, which hosts the Marcos presidential museum and a Chinese garden, is also being improved to maximize its tourism and investment potential for both local and foreign markets.
Prior to opening the PHP26.1 million waterpark on Jan. 30 this year, the Ilocos Norte government entered into a direct contracting agreement with private firm BeachBosses Inc. to run the park for at least six months that can be renewed while the province is in transition to find a suitable local partner to manage it.
The water park of the Malacanang of the North will be the venue for the elimination and final rounds of a "battle of the bands" competition on Dec. 10 and 16, respectively.
Also on Dec. 16, the same venue will also be used as the backdrop for the kakanin (rice-based cakes) cook-off to showcase the best recipes from the 21 towns and two cities of Ilocos Norte.
This month, the Ilocos Norte government will also be giving away discounts on water park activities and having a "buy 1 take 1" promo for December babies or birthday celebrators.
Early on, the provincial government has initiated the establishment of the water park to boost domestic tourism and ensure stable employment and livelihood opportunities for many industry workers and local business owners. (PNA)