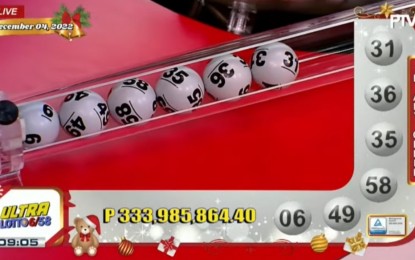 MANILA – The Ultra Lotto 6/58 jackpot prize is expected to soar to PHP345 million on its next draw on Tuesday night, the Philippine Charity Sweepstakes Office (PCSO) announced Monday.
In a statement, the state lottery agency said there was again no winner from Sunday's draw that yielded a winning combination of 06-49-58-35-36-31 and carried a jackpot prize of PHP333.9 million.
However, there were seven second-prize winners who almost hit the jackpot, correctly guessing five of the six-digit winning combination as they won a prize of PHP120,000 each while 933 will get PHP2,000 each for four correct digits, and 24,432 will settle for PHP100 each for three correct digits.
The Ultra Lotto 6/58 is drawn every Tuesday, Friday, and Sunday.
To avoid forfeiture of winnings, winners have one year from the date of the draw to claim the prize, as specified in Republic Act 1169.
The PCSO further reminds the public that all lotto jackpot prizes must be claimed at the PCSO Main Office, Shaw Boulevard in Mandaluyong City.
To claim prizes, winners must write their names and sign at the back of the winning ticket, and present two government-issued IDs.
The public is encouraged to keep on patronizing the products of PCSO as a large chunk of its revenues goes to charity programs. (PNA)