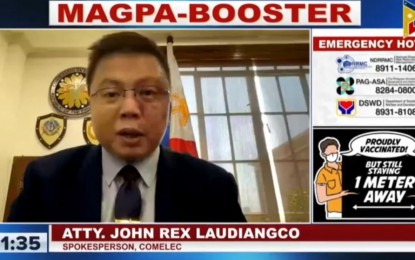 MANILA – An official of the Commission on Elections (Comelec) on Monday said an extension of voter registration will depend on the decision of the Supreme Court (SC) on the petition questioning the postponement of the 2022 Barangay and Sangguniang Kabataan (BSKE) polls.
The resumption of voter registration is set to start on Dec. 12 and will run until Jan. 31, 2023.
"The extension of registration will be based on the decision of the Supreme Court in (Atty. Romulo) Macalintal vs. Comelec, where the constitutionality of Republic Act 11935 is in question. If the SC decides that the election will go beyond May 2023, there is a high possibility that we will be able to extend the registration," Comelec spokesperson John Rex Laudiangco said in a Laging Handa briefing.
In his petition, Macalintal asked the SC to order Comelec to hold the BSKE polls in May next year, citing the statement made by the latter that it is prepared to hold the postponed polls in the said month.
Laudiangco noted in case the decision favors the petition, they are prohibited to hold registration months before the scheduled polls.
"But if the election is earlier than October 2023, we may miss out because there is a ban on registering 120 days before elections. Voter registration is only temporary until January 31. This is based on the future decision of the Supreme Court. It can be as long as that, it can be extended," he added.
Republic Act (RA) 11935, signed by President Ferdinand R. Marcos Jr. on Oct. 10, postponed the Dec. 5 BSKE to the last Monday of October 2023.
Laudiangco urged all those who are qualified as voters and are not yet registered to sign up for them to be able to participate in electoral exercises in the country.
"So we ask (the public) that as early as possible, to register. Bring an identification card, fill up a form on the website, get the biometrics taken. Register early to ensure that they will be able in the upcoming polls, including BSKE," he said. (PNA)