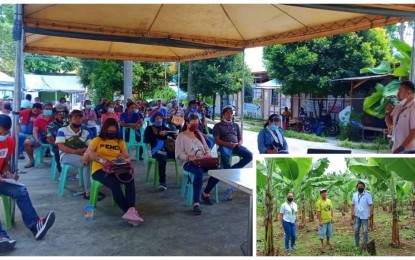 MANILA – The House of Representatives on Monday approved on second reading a measure condoning the existing loan amounting to PHP58 billion that farmers incurred in owning lands under the government's Comprehensive Agrarian Reform Program (CARP).
During the plenary session, the chamber approved through voice voting House Bill 6336, which aims to free agrarian reform beneficiaries (ARBs) from the financial burden of paying loans extended in relation to awarded agricultural land under the CARP.
The bill provides that the unpaid amortization amounts, interest payments, surcharges and penalties of existing loans of ARBs secured under the CARP or other similar programs shall be condoned and written off.
The Department of Agrarian Reform shall issue a Notice of Condonation to be annotated to the Emancipation Patents and Certificates of Land Ownership Award.
The bill prohibits the sale, transfer or conveyance of awarded lands to another except through hereditary succession, or be the subject of conversion, for a period of 10 years from the issuance of the certificate of condonation or certificate of land ownership award.
The government shall subrogate the ARBs to pay the remaining balance of the compensation for lands acquired under the voluntary land transfer and direct payment scheme.
ARBs who have yet to be awarded with agricultural land from the CARP will receive so without any obligation for amortization.
The proposed law exempts estate tax payments on awarded lands to ARBs.
President Ferdinand R. Marcos Jr. has unburdened farmers of their debts with the signing of an executive order (EO) imposing a year-long moratorium on the payment of land amortization and interest payments.
"A moratorium will give the farmers the ability to channel their resources in developing their farms, maximizing their capacity to produce and propel the growth of our economy," Marcos said in his State of the Nation Address on July 25.
Marcos also appealed to Congress to pass a law that will amend Section 26 of RA 6657 as it is seen to emancipate the ARBs from the debt burden.
"In this law, the loans of agrarian reform beneficiaries with unpaid amortization and interest shall be condoned," he said.
ARBs set to receive their awarded land under the CARP will receive it "without any obligation to pay any amortization," he added.
Under EO 75, all government agencies, bureaus, departments and instrumentalities were directed to identify agricultural lands that could be turned over to qualified agrarian reform beneficiaries.
The condonation of the existing agrarian reform loan will cover the amount of PHP58.125 billion benefiting around 654,000 agrarian reform beneficiaries and involving a total of 1.18 million hectares of awarded lands.
The CARP aims to benefit farmers and other ARBs in at least two ways: availability of credit to be used for the enhancement of their farming endeavors and award of lands to be paid for by them to the Land Bank of the Philippines in 30 annual amortizations at 6 percent per annum. (PNA)