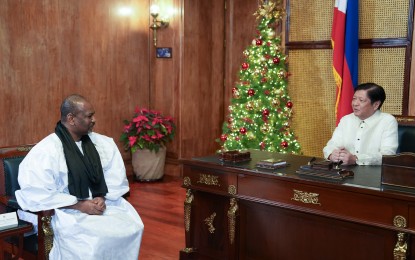 MANILA – President Ferdinand R. Marcos Jr. expects to develop stronger ties with Mongolia and Mauritania as he welcomed their ambassadors at Malacañan Palace on Monday.
In receiving Mongolian Ambassador to the Philippines Enkhbayar Sosorbaram, Marcos named agriculture, energy, education and all other basic services as the Philippines' priorities for quick development as it moves toward post-pandemic recovery.
"So these are the areas that I think that other countries we can cooperate in. And the two-way exchanges is always to the advantage of both sides," Marcos told the Mongolian envoy.
He said he is not only looking forward to visiting Mongolia, but also seeing the relationship between the two countries grow.
Sosorbaram, meanwhile, recognized the Philippines as a very important nation in Southeast Asia, and a partner on the world stage, specifically in the United Nations (UN).
He emphasized the importance of improving people-to-people exchange in the their nations' bilateral relations. Although there are a few Mongolians who live in the Philippines, there are many Mongolian students now coming to Philippine universities.
The Mongolian envoy also extended to the Philippine leader the invitation of Mongolian President Ukhnaagiin Khürelsükh to visit their country preferably from June to August when the weather is more favorable.
The Philippines and Mongolia established their diplomatic relations in 1973.
Next year, the two countries will celebrate the 50th anniversary of the establishment of diplomatic ties.
New energy sources
Meanwhile, Marcos also welcomed Mauritania Ambassador B.A. Samba Mamadou by expressing optimism in investment opportunities between their countries.
He said a list of Filipino businessmen who could invest in Mauritania is currently being prepared.
"I think in terms of the economy in the Philippines, the biggest change in policy of this government from the last and previous ones, you see we are opening up the economy to partnerships --- all kinds of partnerships, government-to-government, private partnerships, PPPs [public private partnerships], whatever is most advantageous to both parties," Marcos said.
He also shared his administration's ongoing efforts in looking at other energy sources aside from its traditional partners.
Marcos said the country is currently weaning itself from traditional fossil fuels to produce power.
In response, Mamadou told Marcos about his country's initiatives to diversify its partnership outside traditional partners for the benefit of its country and people.
"So I am looking forward to meeting some Filipino businessmen and see how I can really talk about the opportunities and tap opportunities that are in Mauritania," Mamadou said.
He also spoke of Mauritania's minerals like coal, copper, and plutonium, citing the newly-discovered huge gas deposits both offshore and inland as well as its strong fisheries sector.
"Mauritania is a very small country, population-wise, but we have natural resources fishery. We have cooperation with countries like Japan, the European Union, China and Turkey," he said.
Mamadou also expressed hope to see an improvement in professional training and agriculture, recognizing the country's good history in rice cultivation, one of Mauritania's main commodities.
The Philippines and Mauritania established formal diplomatic relations on Sept. 30, 2013. (PNA)