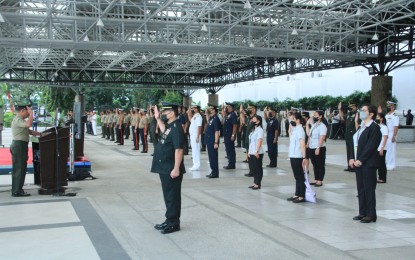 MANILA – The Armed Forces of the Philippines (AFP) reiterated its commitment to the protection and promotion of human rights as it joined the observance of the National Human Rights Consciousness Week.
AFP public affairs office chief Col. Jorry Baclor, in a statement Tuesday, said this pledge was renewed during Monday's flag-raising ceremonies at Camp Aguinaldo, Quezon City.
"The Vice Chief-of-Staff, AFP Maj. Gen. Arthur Cordura who represented the AFP chief of staff, Lt. Gen. Bartolome Vicente Bacarro, presided over the ceremony, which was attended by officers, enlisted personnel and civilian human resources of the AFP," he added.
In his message, the AFP chief called on all military personnel to continue with their commitment to protect and promote the human rights of Filipino citizens.
"As soldiers in the noble profession of arms, part of our pledge in defending the lives and freedom of the Filipino people and our beloved nation is to strengthen our steadfast commitment to respecting and promoting the rights of our fellow citizens," he added.
Meanwhile, AFP Center for Law of Armed Conflict (AFPCLOAC) director Brig. Gen. Joel Alejandro Nacnac led the attendees in reciting the pledge of commitment, which reminds the AFP members of their essential role in safeguarding the rights of the people whom they swore to protect.
The AFPCLOAC will also facilitate various activities to educate further and raise the awareness of military personnel about human rights.
This year's observance, which runs from Dec. 4 to 10, carries the theme "Pagtaguyod at Pagsulong ng mga Karapatang Pantao tungo sa Matatag na Pundasyon ng Kapayapaan, Katarungan, Kalikasan, Kaunlaran, at Bayanihan."
The celebration of the National Human Rights Consciousness Week is pursuant to Republic Act 9201 signed into law by former President Gloria Macapagal- Arroyo in April 2003.
Public and private institutions are urged to participate by propagating a culture of respect for human rights to help in peacebuilding and national unity. (PNA)