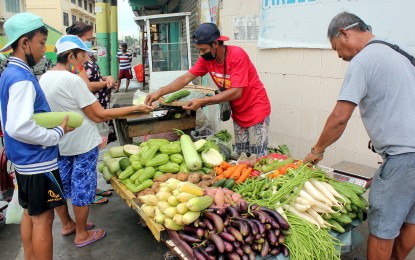 MANILA – Faster increase in prices of goods and services was reported anew in November this year, as the inflation rate rose to 8 percent from 7.7 percent in October 2022.
Philippine Statistics Authority (PSA) deputy national statistician Divina Gracia del Prado reported in a press briefing Tuesday that last month's inflation is more than double from November 2021 inflation rate of 3.7 percent.
"It's the highest since November 2008. We have (inflation rate of) 9.1 percent in November 2008," del Prado added.
The country's highest inflation rate was in January 1999 at 10.7 percent, she said.
Del Prado said the higher inflation last month was mainly due to accelerating prices of food and non-alcoholic beverages, which climbed to 10 percent in the November 2022 survey from 9.4 percent in October this year.
"If we recall, we had typhoon towards the end of November. I think this is a spillover that is why vegetables were the main driver of the increase in food and non-alcoholic beverages," she said.
PSA data showed that the inflation in vegetables, tubers, plantains, cooking bananas and pulses last month was at 25.8 percent. This is still lower than the 26.3 percent inflation for this basket in January this year.
Amid the supply issue that causes the soaring prices of onions in the domestic market, del Prado said year-on-year prices of white onions climbed by 137.2 percent and 47.2 percent for red onions. Month-on-month, prices of white onions decelerated in November compared to October prices, while red onions logged a 15.8-percent increase.
DBCC target
On Monday, the Development Budget Coordination Committee (DBCC) said it is eyeing 5.8-percent inflation for the full year of 2022.
With the fresh inflation data, average inflation from January to November this year stood at 5.6 percent.
Del Prado said the DBCC can still hit its inflation target for this year as long as December 2022 price increases should not go beyond 8.5 percent.
In a separate statement, Socioeconomic Planning Secretary Arsenio Balisacan said the government will continue to implement targeted subsidies to alleviate the impacts of higher prices of goods and services in the country.
"To ease price pressures, we continue to implement measures to boost food production and reduce the cost of bringing farm produce to the market," Balisacan said. "However, we need to improve our delivery mechanisms, particularly on the provision of ayuda (aid) to ensure that the aid reaches the right people in a timely manner." (PNA)