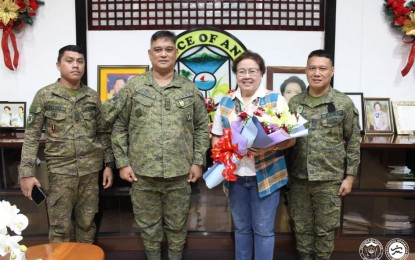 SAN JOSE DE BUENAVISTA, Antique – The Philippine Army Reserve Command 602nd Community Defense Center (CDC) will establish reservist platoons in all 18 municipalities of Antique province.
Lt. Col. Danny Bustamante, 602nd CDC director in Antique, said on Tuesday they are in the process of enlisting interested individuals, including elected officials and other professionals, to become reservists in the province upon the direction of their Regional Community Defense Group Commander, Col. Crisanto Calit.
"We need to be able to enlist and train a platoon size or 20 reservists in each of the 18 municipalities of the province," he said in an interview.
He added that they are maximizing the enlistment due to lessons learned during the Severe Tropical Storm Paeng where they had to deploy reserve forces due to the massive damage in the province.
Antique currently has 446 enlisted reservists with 16 officers although some are inactive or no longer in Antique.
"If we have platoon size reservists in every municipality, we could easily mobilize them whenever needed," he said.
Bustamante also said those interested can just go to the CDC here to be included in the training in June next year.
In a separate interview, Vice Governor Edgar Denosta, who is a reserve officer himself, said the reservists are important because they not only help in the relief operation of the local government units (LGUs) but also in the internal security and intelligence network.
"The reservists also render community service in the barangays," Denosta said.
Other elected officials who have enlisted in the reserve force are Governor Rhodora J. Cadiao and Board Members Karmila Dimamay, Alfie Jay Niquia, and Pio Jessielito Sumande. (PNA)