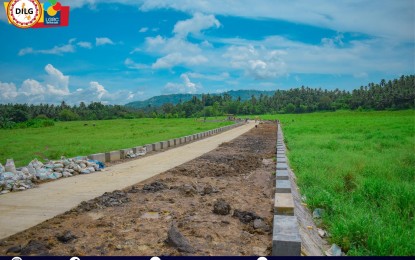 TACLOBAN CITY – Mayors from conflict-stricken towns in Samar provinces have welcomed the decision of the bicameral conference committee to restore the PHP10 billion fund for the National Task Force to End Local Communist Armed Conflict (NTF-ELCAC).
Las Navas, Northern Samar Mayor Arlit Tan said in a phone interview Tuesday that an additional budget for the task force means more resources to carry out the Support to the Barangay Development Program (SBDP) meant to develop communities previously affected by armed conflict.
"We are happy with this good news. Of the seven villages infiltrated by the New People's Army (NPA) in the past, only one got an allocation of PHP20 million under the 2021 allotment and the rest got PHP4 million for 2022. With the fund restored, we hope to get more budget for rural development next year," Tan said.
Las Navas, a 4th class town, is known for frequent gun battles between government forces and the NPA. The most recent was last Nov. 23 when six NPA leaders were killed in their major hideout in remote Imelda village.
"Imelda village is more peaceful now after that encounter. We hope that the situation will be sustained through implementation of SBDP," Tan added.
Matuguinao, Samar Mayor Aran Boller said the move of the committee to restore the fund slashed by half during budget deliberations has shown sensitivity to the needs of rural communities.
"The decision to give more funds for NTF-ELCAC is very commendable. Take note that residents in several communities have never seen a concrete road or path walk even at their village centers in their whole life. This is their only chance to see development. We promised them development and we have to keep that promise through BDP," Boller said in a phone interview.
Matuguinao, a fifth-class town with a population of nearly 8,000, is a recipient of SBDP with 12 formerly NPA-influence villages covered.
The NTF-ELCAC's PHP10 billion outlay is primarily intended to implement SBDP projects for areas cleared from NPA influence.
Projects include the construction and rehabilitation of potable water systems, the construction of health stations, the construction and concreting of farm-to-market roads, rural electrification, the construction of school buildings, assistance to indigent individuals or families, livelihood and technical programs, and agricultural projects.
The NTF-ELCAC, created under Executive Order 70 issued on Dec. 4, 2018, is tasked to "provide an efficient mechanism and structure for the implementation of the whole-of-nation approach to aid in the realization of collective aspirations for inclusive and sustainable peace." (PNA)