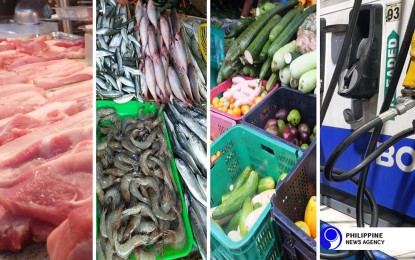 MANILA – The hike of domestic inflation rate last November to 8 percent from 7.7 percent in the previous month is within the Bangko Sentral ng Pilipinas' (BSP) expectations, and it sees risks to be balanced only by 2024 after decelerating in the coming months.
"Inflation is projected to decelerate in the subsequent months due to easing global oil and non-oil prices, negative base effects, and as the impact of BSP's cumulative policy rate adjustments work its way to the economy," the BSP said in a statement on Tuesday.
It earlier projected the November rate of price increases to stay between 7.4 to 8.2 percent.

It forecasts inflation to peak either this month or in January 2023.
The Philippine Statistics Authority (PSA) traced the further acceleration of the inflation rate, which is the highest since November 2008, to higher year-on-year upticks in the food and alcoholic beverages index along with those from restaurants and accommodation services.

The average inflation in the first 11 months this year stood at 5.6 percent, higher than the government's 2 to 4 percent target band.

The BSP forecasts this year's inflation to average at 5.6 percent.

It said risks to inflation remain on the upside due to upticks in the prices of food and fertilizer prices, among others, in the international market, as well as the trade restrictions and adverse global weather conditions.

"Higher food prices from further domestic weather-related disturbances and supply disruptions in key food commodities such as sugar and meat, as well as pending petitions for transport fare hikes, were also identified as upside risks to the inflation outlook in the latest round," it added.

These factors are expected to be countered by the effects of weaker-than-expected global economic recovery.

The BSP said its policy-making Monetary Board (MB) "will continue to assess the country's inflation outlook and macroeconomic prospects in its monetary policy meeting on 15 December 2022."

"The BSP remains prepared to take all further monetary policy actions necessary to bring inflation back to a target-consistent path over the medium-term. The BSP is also reassured by the timely implementation of non-monetary government measures to mitigate the impact of persistent supply-side pressures on inflation," it added. (PNA)