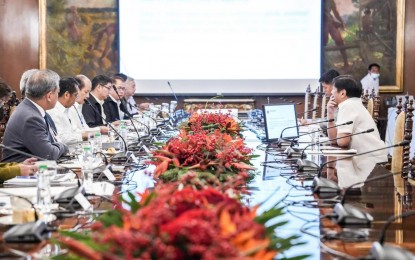 MANILA – President Ferdinand R. Marcos Jr. on Tuesday directed the Department of Health (DOH) to prioritize general public health concerns like tuberculosis (TB) infections aside from Covid-19.
This developed following a meeting with the DOH officials on the status of its TB-DOTS (directly observed treatment, short-course) program which aims to eradicate tuberculosis in the country.
"Although Covid is still there, we cannot forget the public health issues such as tuberculosis, HIV [human immunodeficiency virus], flu, that are constant threats to public health. We are continuing to monitor Covid on its new variants but we have reminded the DOH that there are other issues beyond Covid. Since Covid is more or less being managed, we have to put our attention back to public health issues that existed even before Covid," he said in a video released by Malacañang to reporters.
DOH officer-in-charge, Undersecretary Maria Rosario Vergeire, likewise told Marcos that the DOH officials have become more innovative and are now going around the country to launch the primary care program that includes TB-DOTS.
Citing government data, Vergeire said tuberculosis has reemerged because of its high transmissibility, and the disease usually affects people from the lower income bracket of society.
She also said there are a lot of multi-drug resistant cases of TB because people can still buy anti-TB medicines over the counter.
"So, for example, they have prescriptions that will be given by doctors who just need them... medicines for just one, two months, they will not finish their medicines and they become resistant," Vergeire said.
She added that some patients receiving medicines from the government offer them to other people who haven't consulted a doctor.
To address present challenges, Vergeire said the DOH has partnered with the United States Agency for International Development (USAID) to intensify its monitoring and surveillance efforts.
"So mag-X-ray ka dito for example 'yung province A (So for example, you will perform an X-ray in province A), will just be sent to an app on the phone in minutes you get your chest x-ray reading to artificial intelligence and right away you subject the patient to sputum examination, and in three to four hours they start your medication," Vergeire said.
"So we're trying to go around the different provinces to do this. Hopefully, we get to reduce the number of cases," she added.
Meanwhile, Vergeire also expressed concern over the rising HIV cases during the pandemic, which prevented people from undergoing HIV screenings.
"People were not able to go for screening, were not able to get their medicines because of the lockdown, so what we did during the time of pandemic, we were already sending per individual or per patient 'yung kanilang mga gamot through LBC para lang makainom sila ng gamot (the medicine they need through LBC just so they can drink their medicines)," Vergeire said.
She said the DOH is working with lawmakers and with the judiciary to fight stigma and discrimination, which have been preventing people from seeking medical attention even if they're experiencing HIV symptoms.
"So we're working with the other sectors so that we can be able to make the services more accessible," she added.
The advanced stage of HIV results in acquired immunodeficiency syndrome (AIDS), a chronic and potentially life-threatening condition. (PNA)