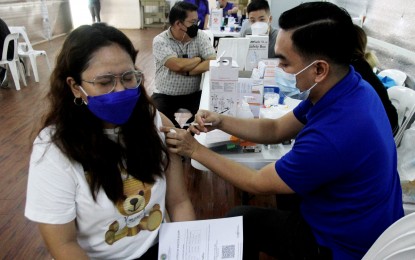 MANILA – Employers have been encouraged not to mark absent workers who will have themselves vaccinated during the three-day Covid-19 special vaccination days which run from Dec. 5 to 7.
"Employers are highly encouraged to allow their employees to be excused from work without being considered absent when they: get vaccinated and/or accompany their children on the scheduled vaccination; or experience adverse vaccine-related effects and/or have to take care of their children who experience adverse vaccine-related effects," Labor Secretary Bienvenido Laguesma said in Labor Advisory No. 24 issued on Tuesday.
The guidelines were issued in support of the government's implementation of the Bakunahang Bayan: Special Vaccination Days.
Covered by the advisory are workers from private companies.
"This Advisory shall apply to all employees in the private sector, particularly those with due or missed schedule of vaccine doses 1st and or 2nd booster dose and or those who will accompany their children for vaccination," it added.
Earlier, the Department of Health announced the holding of the nationwide "Bakunahang Bayan" which aims to make vaccines more accessible to the people. (PNA)