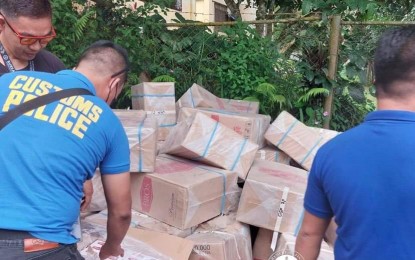 MANILA – The House of Representatives on Tuesday approved on second reading a measure classifying tobacco smuggling as economic sabotage.
During the plenary session, the chamber passed through voice voting House Bill 3917, which seeks to amend Republic Act 10845 or the Anti-Agricultural Smuggling Act of 2016 by declaring the smuggling of tobacco, whether manufactured or unmanufactured, as economic sabotage and a non-bailable offense.
Under the original law, only included as agricultural commodities whose importation will be considered a heinous crime are rice, sugar, corn, pork, poultry, garlic, onion, carrots, fish and "cruciferous vegetables."
In her sponsorship speech, PBA party-list Representative Margarita Nograles cited the latest Euromonitor report estimating that 16.7 percent, or about 9.52 billion sticks of the total cigarette volumes sold in the Philippines will come from illegal sources in 2022.
Nograles said the government stands to lose PHP26.2 billion in tax revenues for 2022 due to smuggled tobacco.
"This presents a serious threat to Philippines government tax revenue collection. Whilst we keep increasing our efforts to undertake measures — it still results in unscrupulous traders evading paying high taxes and remaining in the black market," Nograles said.
She warned that if left unmitigated, it could affect the local tobacco industry and roughly 2.2 million Filipinos.
The bill proposes a minimum of 30 years of imprisonment but not exceeding 40 years with no bail recommended against cigarette smugglers.
At the same time, violators are obliged to settle a fine double the value of the seized smuggled items, plus the total amount of unpaid duties and other taxes.
"There is an urgent need to combat large-scale tobacco smuggling by imposing more stringent penalties and deter the entry and sale of illegal tobacco in the Philippines," she said.
The bill is in line with President Ferdinand R. Marcos Jr.'s pronouncement during his first State of the Nation Address (SONA), wherein he declared war against rampant smuggling and ordered authorities to curb immediately the economic menace within their jurisdiction.
Presidential son and senior Deputy Majority Leader Sandro Marcos, another author of the measure, emphasized the need to address the "growing threat" of cigarette smuggling since it deprives the government of billions of pesos annually in revenues, or around PHP30 billion to PHP60 billion annually.
"If the entry and sale of smuggled cigarettes continues unrestricted, the national government stands to lose even more revenues. This will be detrimental to its pandemic recovery efforts, clearly, this is one of the biggest tax leaks that government needs to plug," the lawmakers said. (PNA)