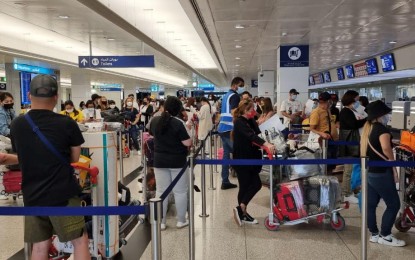 MANILA – Deployment of overseas Filipino workers (OFWs) bound for India has been suspended by the Philippine Overseas Employment Administration (POEA), according to its officer-in-charge Administrator and Department of Migrant Workers (DMW) Undersecretary for Licensing and Adjudication Bernard Olalia.
In an interview over a news network on Tuesday, Olalia said they have started the suspension of deployment to India starting Monday (Dec. 5), after the information was released officially.
Olalia explained that the reason for the deployment suspension is that India is a non-compliant destination country for OFWs, according to the information given to them by the Philippine Embassy in New Delhi.
He explained that for a destination country to be declared compliant, it must be able to satisfy three conditions.
"There are 3 conditions for a particular destination country to be certified as compliant by the DFA [Department of Freign Affairs]. Isa rito na napaka importante, dapat may mga batas sila, tinatawag nating domestic o local laws that protects the rights of Filipino migrant workers, unfortunately, napag alaman ng DFA na wala silang ganon (One of them that is very important, they must have laws, or what we call domestic or local laws, that protect the rights of Filipino migrant workers, unfortunately, the DFA found out that they do not have that)," Olalia said.
The second condition is that the destination country must be a signatory to the International Convention on the Protection of the Rights of All Migrant Workers and Members of their Families (CRMW) adopted by the United Nations in 1990.
Olalia said that although India supports it, it has neither signed nor ratified the said convention, which makes them non-compliant.
"Pangatlo, pinaka imprtante din na dapat malaman ng mga kababayan natin, kinakailangan may bilateral labor agreement (BLA) tayo with the destination country. Unfortunately, wala po tayong (Third, this is also very important that the public should know is that we must have a bilateral labor agreement with the destination country. Unfortunately, we don't have any) BLA with India," he said.
Olalia explained that the BLA is a mutual agreement that is either initiated by the country of destination or by the labor-sending country.
However, more than the BLA, he said that a destination country must have a law that protects its foreign workers so that the Philippine government is assured that OFWs in the said country are within the protection of their labor laws.
Based on available data, Olalia said there are around 2,000 Filipinos currently staying and working in India, mostly professional and skilled workers. (PNA)