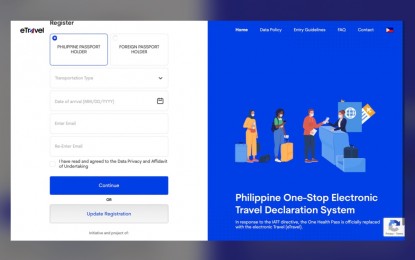 MANILA – The new eTravel system is seen to ease the completion of documents, health declaration and other data from inbound travelers through the integration of several government systems.
In a statement on Tuesday, Department of Information on Communications Technology (DICT) Secretary Ivan John Uy said the eTravel system allows relevant government agencies to use a single system while also easing the public's engagement with the government.
"That's the directive that President [Ferdinand R. Marcos] gave to us, the DICT— to help the different government agencies push through with e-governance," Uy said.
The eTravel system, meant to replace the One Health Pass and e-Arrival card, is a new contact tracing platform that collects arrival information and serves as a health declaration checklist for inbound travelers.
It was developed by the DICT through a joint initiative with the Bureau of Immigration (BI), Bureau of Quarantine, Bureau of Customs, Department of Tourism, Department of Health, Department of Justice, and the Department of Transportation.
Through the system, inbound travelers can register at https://etravel.gov.ph/ with their personal profile, travel details and health declaration.
Each user will be provided with a unique quick response (QR) code once they complete their registration.
Travelers are required to complete their registration three days before their arrival in the Philippines.
The eTravel system was launched on Monday and has since replaced the One Health Pass domain, redirecting those who visit the old website to the eTravel website.
It will also host the electronic version of the paper Arrival Card that travelers are required to submit on entry to the Philippines for immigration clearance. (PNA)