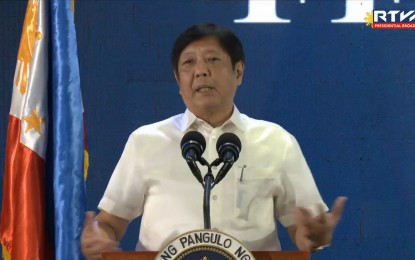 MANILA – The Philippine economy continues to recover from the negative impact of the Covid-19 pandemic even after the country's inflation rate accelerated to 8 percent in November, President Ferdinand R. Marcos Jr. said Tuesday.
In a speech during the 11th Arangkada Philippines Forum in Pasay City, Marcos said the country is on track to maintain its strong economic performance and achieve the government's growth target of 6.5 to 7.5 percent for 2022.
He said although the Philippine growth rate looks healthy, he said inflation is "running rampant and out of control."
"We just received the poor news from the Philippine Statistics that November, we hit 8 percent," Marcos said.
Data from the Philippine Statistics Authority (PSA) showed inflation rose to 8 percent last month, faster than 7.7 percent in October.
The latest figure is the country's "highest recorded inflation since November 2008", when it soared to 9.1 percent amid a global financial crisis, PSA deputy national statistician Divina Gracia del Prado announced in a media briefing.
Marcos noted that the government is currently identifying the areas of the economy that are the main drivers of that inflation including imports.
"The main drivers of that inflation, unfortunately, are still imported – is still imported inflation. So again, import substitution is still a good idea not only for foreign exchange reserve but also so that we can keep our inflation rate down," he added.
More investments
To attract more foreign direct investments, Marcos said his administration will continue forging closer partnerships with the different chambers of commerce because he values the participation of the private sector in the country's quest for economic positioning in the world.
"I consider the participation of the private sector, both local and foreign, to be absolutely to our success. So that is why we must continue this partnership between the chambers of commerce, the private sector and government," he said.
He urged both local and foreign business leaders to invest in key areas such as education and skills training; digitalization of processes; and research and development to aid the government in its efforts to "transform" the Philippine economy.
"I do not talk about recovery because I do not want to recover the Philippine economy to what it was in 2019. That is not going to work anymore. Whatever economy is going to be formed in the next few months, the next few years, it will be very different from what we were doing," he said.
He vowed to further boost economic growth, with overall goals of poverty reduction and reinvigorating job creation.
Marcos said the government is accelerating the country's economic growth by further easing travel and mobility restrictions, implementing economic reforms and improving economic cooperation with trade and investment partners.
He said the government is also enhancing ease of doing business and public-private partnerships, and improving bureaucratic efficiency through information and communication technology (ICT) development and digitalization.
"Rest assured this government is united in ensuring that the Philippines will become a viable and sustainable destination for domestic and foreign investors," he said.
Manufacturing sector
Meanwhile, Marcos reiterated his desire to "build up" the country's manufacturing sector.
"We always talk about import substitution. And we try to favor those industries that are export-oriented and that's valid. But I think it is also time to look inwards into the domestic market here and develop our manufacturing capabilities," he said.
"Develop those markets, the local markets, and for that, we need the private sector to come in. As when we talk about manufacturing, we are talking about capital intensive investments. And that is something we are hoping will be again a driver for our economy in the next few years," he added.
He also congratulated the Joint Foreign Chambers (JFC) of the Philippines for the successful conduct of the Arangkada Forum.
"It is likewise encouraging to see your willingness to work together with the government towards addressing these challenges so that we can further accelerate our country's inclusive growth and economic momentum," he said.
Launched in 2010, the Arangkada Philippines is a major advocacy of the JFC to increase investment and employment in the country.
The forum is an annual event where business leaders and public officials convene to share ideas on improving the nation's business and investment climate.
The theme for this year's gathering is "Reform, Rebuild, Recover" which aims to shed light on how policy reforms can accelerate and sustain economic recovery. (PNA)