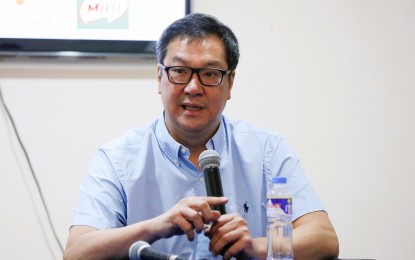 MANILA -- Head coach Patrick Aquino believes the women's basketball team needs a longer and thorough preparation to achieve a "three-peat" in the 2023 Southeast Asian Games.
"In preparation for the Southeast Asian Games in Cambodia, we're really trying to do our best of preparing the team now, that's why we started (training) early," said Aquino during the Philippine Sportswriters Association (PSA) Forum at the ground floor of the Rizal Memorial Sports Complex on Tuesday.
"We've already been practicing three times a week for the past month already, with the addition of Jack Animam coming back from her injury," he said.
Animam, 24, was a member of the gold-winning squad in the 2019 Manila SEA Games. But she sustained an anterior cruciate ligament ( ACL) injury that prevented her from playing in Vietnam last May.
"She's been out of basketball for more than a year and a half, so it's a boost for the team (her return). So we're letting her to feel again how to play. But I'm happy that Jack is back. She will be a big help for us in our campaign," Aquino said.
Out to stop the Philippines from retaining the title are the teams of Indonesia, Malaysia, Thailand and Vietnam.
"Indonesia has been recruiting so much, Vietnam has twin sisters from the United States (Kayleigh and Kaylynne Truong), and Malaysia now has an Australian coach," Aquino shared. "So we have to be prepared and try to retain that gold for us."
Malaysia has won 13 titles in the SEA Games, including six in a row between 1977 to 1987. The Malaysians pocketed their last title in 2017, the year they hosted the Games.
Thailand, on the other hand, owned five titles (1989, 1991, 1995, 2011, 2013). (PNA)