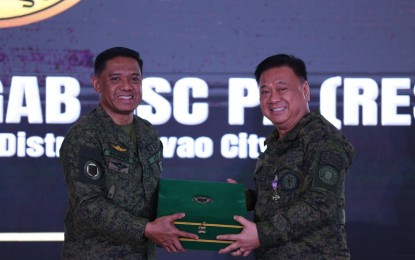 MANILA – The Philippine Army (PA) has hailed its reservists for their role and dedication in nation building and disaster response efforts.
"They risk their lives to save the lives of others," said Army chief, Lt. Gen. Romeo Brawner Jr., in a statement forwarded Tuesday night as the Army honored the services of these individuals in a fellowship night last Dec. 5.
PA spokesperson, Col. Xerxes Trinidad, said Brawner's fellow night with the reservists took place at the Army Officers' Clubhouse in Fort Bonifacio, Taguig City.
"The fellowship night's highlight was the recognition of Army reservists' service to the country and dedication to duty as well as the commissioning and incorporation of new reserve officers and enlisted personnel," he added.
Among the highlights of the event were Brawner's awarding of Deputy House Speaker and Colonel Isidro Ungab (Reserve) with the Bronze Cross Award, while Department of Tourism Secretary Christina Garcia Frasco, House Deputy Speaker and Cebu Representative Vincent Franco Frasco, and Lanao del Sur Rep. Ziaur-Rahman Alonto Adiong were commissioned into the Army's reserve force.
Singer-actress Jessa Zaragoza-Avanzado and actor-singer Brent Valdez were likewise enlisted as privates in the PA reserve force during the activity.
"The well-attended activity gathered reservists from all walks of life, most notably from the government, entertainment industry, private sector, and various professions. Senator and Brig. Gen. Francis Tolentino (Res.), who serves as the Commander of the 1501st Ready Reserve Brigade, and Senator and Lt. Col. Sherwin Gatchalian (Res.) also graced the event," Trinidad said.
Four enlisted celebrity reservists -- Francis Cyril "Dingdong" Avanzado, Julieane "Aya" Fernandez, Jean Christopher Santos, and Ivan Carapiet -- also received rank readjustments during the activity.
PH Army civilian employees kick off National Government Employee's Week
As this developed, PA "civilian human resources" or civilian employees kicked off the celebration for the National Government Employee's Week with an early morning zumba exercise held at the grandstand of the Philippine Army headquarters last Dec. 6.
PA civilian human resource chief Letty Edith Lacanienta led the activity and laid out the activities for the week-long celebration.
During the activity, Lacanienta encouraged the attendees to participate in the upcoming activities in appreciation of the government employees employed by the PA.
The activities include the conduct of the Search for Ginang Kawani Philippine Army 2022 and Fellowship Dinner with Brawner.
"The civilian human resources of the PA perform an important part in the organization as they actively participate in the Command's institutional transformation by providing administrative and personnel support to the uniformed personnel," Trinidad said. (PNA)