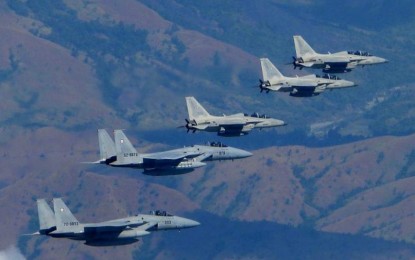 MANILA – Two Japanese Air Self-Defense Force (JASDF) McDonnell Douglas F-15 "Eagle" jet fighters landed at Clark Air Base, Pampanga last Dec. 6 as part of the goodwill visit aimed at strengthening the long-standing ties and capabilities of two services.
In a statement Wednesday, Philippine Air Force (PAF) spokesperson Col. Ma. Consuelo Castillo said the Japanese jet fighters were escorted by their FA-50PHs upon their arrival in the country.
"(This is) part of the goodwill visit of JASDF to the Philippines which aims to strengthen the long-standing relationship between the two Air Forces as they jointly develop their defense capabilities through unit-to-unit exchanges," she added.
A F-15 jet fighter is twin-engine, all-weather tactical fighter designed initially to meet the United States Air Force's requirement for a dedicated air superiority fighter.
It has a maximum speed of Mach 2.5 and a combat range of 1,061 nautical miles and is armed with a 20mm cannon and capable of carrying a variety of air-to-air missiles.
Exchanges will be held mainly at the Clark Air Base, Pampanga and the surrounding airspace.
Previously, the JASDF and PAF also conducted bilateral exercises on humanitarian assistance and disaster relief (HADR) in July 2021 and June 2022.
These exercises aimed to enhance the JASDF and PAF HADR capabilities, particularly in the delivery of relief goods to affected people in severe emergencies.
The arrival of the two F-15Js were followed by a simple program that kicked-off the goodwill interaction between PAF and JASDF participants with Maj. Gen. Takahashi Hideo, JASDF Western Air Defense Force vice commander, as guest of honor.
Castillo said the activity was hosted by 5th Fighter Wing commander Col. Leo Fontanilla and attended by PAF pilots, officers and enlisted personnel, who later had the opportunity to interact with their JASDF counterparts.
"Meanwhile, in Taguig City, Gen Izutsu Shunji, JASDF chief-of-staff, visited the Libingan ng mga Bayani for a wreath-laying ceremony in honor of fallen Filipino soldiers. He was welcomed by the Air Force Inspector General, Maj. Gen. Araus Robert F. Musico, PAF and was led to the Tomb of the Unknown Soldier where he paid tribute and offered his prayers as the wreath was laid," she added.
The activities are in line with the bilateral agreement between PAF and JASDF to deepen defense cooperation and strengthen the bond of friendship between the two countries. (PNA)