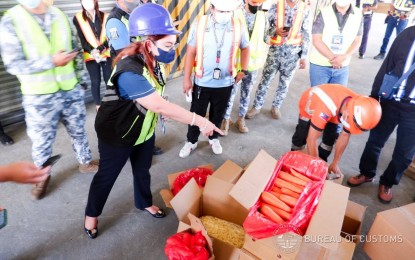 MANILA – The Bureau of Customs-Port of Subic (BOC-POS), in coordination with the Department of Agriculture (DA), intercepted container shipments of agricultural products believed to be smuggled, estimated to be worth PHP20 million.
District Collector Maritess Martin issued Alert Orders on Dec. 1 against the shipments of Veneta Consumer Goods Trading and Lalavy Aggregates Trading, which originated from China.
On Tuesday, a physical examination was conducted which revealed that the shipment of Veneta Consumer Goods Trading, which was declared as assorted foodstuffs, contained frozen carrots.
Another shipment consigned to Lalavy Aggregates Trading, declared as frozen lobster balls and crabsticks, were found to contain fresh red and white onions.
Based on the initial inventory of the Port of Subic, the estimated value of the seized agri goods is PHP20.193 million.
The Port will issue Warrants of Seizure and Detention (WSD) against the shipments after a complete examination and inventory.
The consignee allegedly violated Department of Agriculture (DA) Administrative Order No. 18 series of 2000, DA Circular No. 4 series of 2016, and Section 1400 in relation to Section 1113 (f) of Republic Act (RA) 10863, otherwise known as the Customs Modernization and Tariff Act (CMTA).
The examination was done in the presence of BOC officials and personnel led by Martin, and DA representatives, led by Assistant Secretary James Layug, with Shirley David of the Bureau of Plant and Industry- Plant Quarantine Service Region 3.
Also present were representatives from the Subic Bay Metropolitan Authority, the Philippine Drug Enforcement Agency, and the Chamber of Customs Brokers, Inc.
Martin vowed to continue to implement policy measures and intensify enforcement operations to deter and prevent the smuggling of agricultural products, especially since that holiday is fast approaching, in compliance with the marching order of President Ferdinand Marcos Jr. and as instructed by Commissioner Yogi Filemon Ruiz. (PNA)