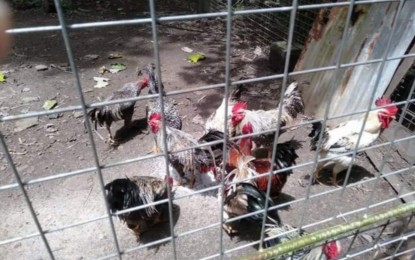 BACOLOD CITY – The Negros Occidental provincial government has imposed a total ban on the entry of live birds and poultry products such as meat and eggs from areas affected by the highly pathogenic avian influenza or bird flu, including Luzon, Mindanao, and the neighboring islands of Panay and Guimaras.
The ban took effect immediately after the province released a copy of Governor Eugenio Jose Lacson's Executive Order (EO) 22-42 on Tuesday night.
"(This is) to safeguard the poultry industry as well as to protect the general public from the effects of the bird flu disease," Lacson said as he directed local chief executives to strengthen biosafety, hygiene and sanitation standards in poultry dressing plants, live bird markets, and poultry farms.
Negros Occidental has a PHP8 billion poultry industry and is among the top poultry-producing provinces in the country.
To ensure that the ban is strictly imposed, the governor has tasked veterinary inspectors to intercept the entry and confiscate birds and their products from restricted regions during the inspection at seaports, airports and other points of entry.
Lacson added that Negros Occidental also reserves the right to impose a total ban on other areas in the Visayas with suspected bird flu cases.
However, there are exemptions to the ban and certain products will be allowed entry regardless of shipping origin subject to compliance with requirements.
For raw poultry meat, both processed and unprocessed, needed are meat inspection certificate issued by the National Meat Inspection Service and/or a license to operate/certificate of product registration from the Food and Drug Administration as well as a veterinary shipping permit from the Bureau of Animal Industry (BAI).
For day-old chicks and hatching eggs, including broiler, layer and breeder required are veterinary health certificate and certification issued by the Provincial Veterinarian that birds were sourced from farms with no incidence of bird flu for the past 14 days before shipment.
Other requirements include a veterinary shipping permit from the BAI, a negative laboratory test for bird flu of the source flock valid for 28 days from the date of sample collection and a certificate of acceptance from the Negros Occidental Provincial Veterinary Office (PVO).
In the case of hatching eggs, the PVO requires that the destination facility is placed under mandatory quarantine with regular supervision during the incubation period until the hatching is complete.
For embryonated eggs, popularly known as "balut", these must be fully cooked before shipment and must have a veterinary shipping permit from the BAI and a certificate of acceptance from the PVO.
Negros Occidental will also allow regulated entry of birds and their products from bird flu-free areas.
The regulation covers the shipment of gamefowl, turkey, and domesticated poultry; ducks, pigeons, and other wild birds; broilers and ready-to-lay pullet; and raw processed and unprocessed poultry meat. (PNA)