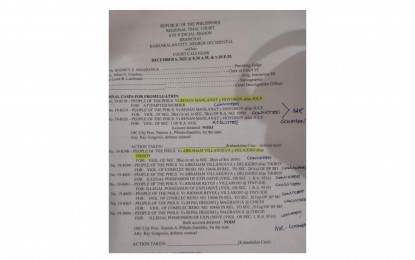 BACOLOD CITY – The Regional Task Force to End Local Communist Armed Conflict-Western Visayas (RTF-ELCAC 6) has lauded the convictions of New People's Army (NPA) leader Abraham Villanueva and his three comrades for various criminal cases before the Regional Trial Court Branch 61 in Kabankalan City, Negros Occidental on Tuesday.
Prosecutor Flosemer Chris Gonzales, spokesperson of legal Cooperation Cluster of RTF-ELCAC 6, said in a statement the team of the Office of the City Prosecutor of Kabankalan secured nine convictions out of the 10 cases filed against the accused, who are members of the Communist Party of the Philippines, and its political wing, National Democratic Front, and the NPA operating in Negros Island.
Based on the list provided by the RTF-ELCAC 6, Villanueva, known by the alias "Tikboy," was convicted of violation of Section 28 (a) in relation to Section 28 (e) Republic Act (RA) 10591 or the Comprehensive Firearms and Ammunition Regulation Act and of the Commission on Elections Resolution 10446 or the Comelec gun ban in relation to Section 261 (q) of Batas Pambansa 881 or the Omnibus Election Code.
Villanueva was also found guilty of illegal possession of explosives.
His companion, Joemar Villarojo Reyes, with aliases "Tiny/Joe", and a third accused, Rona Magbanua Degoso, with alias "Chichi", were convicted of illegal possession of explosives and violation of the election gun ban.
In a separate promulgation, Renan Hoyohoy Manlanat, also known as "July", was convicted of attempted murder and also of violation of RA 10591, but has been cleared of illegal possession of explosives.
All the accused have been detained at the Negros Occidental District Jail in Bago City.
"We commend the men and women of the Office of the City Prosecutor of Kabankalan City under the leadership of OIC City Prosecutor Noreen A. Pillado-Gambito," Gonzales said.
He said "these convictions are victories that would bring the people of Negros Island and the entire country one step closer to winning the peace by ending the local communist armed conflict".
Villanueva, the secretary of the NPA South West Front, was arrested by government forces in Sitio Amian Ilawod, Barangay Tampalon in Kabankalan City on the night of April 1, 2019.
Arrested with him were Reyes, identified initially as Jomar Villarojo, of Barangay Camansi, Kabankalan City, and an 18-year-old from Barangay Asia, Hinoba-an.
According to the Philippine Army, Villanueva led the NPA cadres in the province's sixth district comprised of the municipalities of Candoni, Hinoba-an, Ilog, Cauayan, and the cities of Kabankalan and Sipalay.
During their arrest, Villanueva and his two comrades were wearing black sweatshirts with the print PKP or Partido Komunista ng Pilipinas @50 and black jogging pants.
They yielded a .45-caliber pistol, a magazine with five pieces of ammunition and three hand grenades, based on the report of the Philippine Army. (PNA)