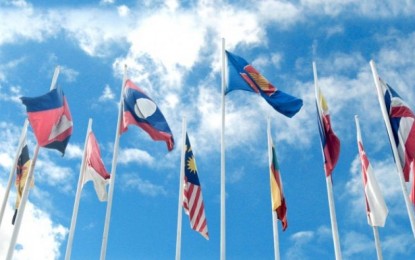 MANILA – The Philippines hosted two Association of Southeast Asian Nations (ASEAN) fora centered on regional peace, maritime cooperation and combatting illegal and unregulated fishing.
The 12th ASEAN Maritime Forum (AMF) was held back-to-back with the 10th Expanded ASEAN Maritime Forum, which included East Asia Summit members Australia, China, India, Japan, New Zealand, South Korea, Russia, and the United States.
"[T]he call yesterday and the call right now is on the peaceful settlement of maritime disputes. (Also), there were discussions about ongoing cooperation on environmental protection, deep seabed mining, and combatting illegal, unreported, and unregulated fishing," Foreign Affairs Deputy Assistant Secretary Noel Novicio said in a press conference in Makati City Wednesday.
The fora, held from Dec. 6 to 7, also reflected on the significance of the United Nations Convention on the Law of the Sea (UNCLOS) in enhancing peace and stability in the region.
While mention of UNCLOS has been a "staple" in ASEAN statements and documents over the past years, Foreign Affairs Secretary Enrique Manalo said "repeated reference to the same words year in and year out comes the danger of becoming stale at best, irrelevant at worst."
"Now more than ever, ASEAN must be more intentional with its words. There must be no doubt that for ASEAN, we uniformly subscribe to the UNCLOS as an instrument of international law, not merely a reflection of universally recognized principles," he said in a keynote message at a welcome dinner on Dec. 6.
"To do the latter is a disservice to the crafters of this landmark document," he added.
The Hague-based Permanent Court of Arbitration (PCA) issued in 2016 a landmark decision with UNCLOS as the basis, invalidating China's vast claims over the South China Sea under the so-called nine-dash line.
Novicio said recommendations from the two-day discussions would feed into the various ASEAN mechanisms, including the ASEAN Regional Forum Intercessional Meeting on Maritime Security and the ASEAN Defense Ministers Meeting Plus.
"[T]he bottomline is that we want to strengthen and enhance maritime security dialogue in the region, especially with our dialogue partners as well," he said.
Established in 2010, the AMF is a venue for dialogue among ASEAN member states on maritime security trends, maritime cooperation, maritime domain awareness and maritime environmental protection.
The EAMF, on the other hand, is a Track 1.5 venue for ASEAN and its dialogue partners. It was established in 2012 with the Philippines as inaugural chair. (PNA)