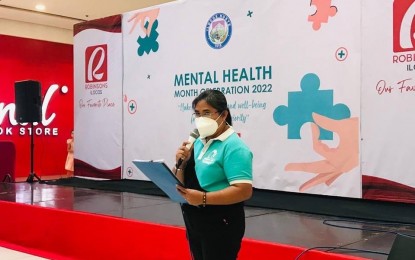 LAOAG CITY – The Department of Health (DOH) has lauded the efforts of the Ilocos Norte government for being the best implementer of mental health programs in the Ilocos Region.
Divine Sevilla, a counseling professional of the "Speak Up, I'm Here" program, said Wednesday for its efforts, the province is set to receive an award on Dec. 12 at the DOH Regional Office 1 in San Fernando City, La Union.
"The award comes with a prize of PHP25,000 and other surprise gifts," she said.
Through the "Speak Up," hundreds of Ilocanos, particularly the youth, are being reached out to help them deal with psychological-related cases affecting their daily lives.
The program was launched in September 2020 in view of the alarming rate of suicide-related cases reported in the province which has increased by 31 percent compared to the same period last year.
To date, the mental health awareness program by the provincial government has expanded to schools and various local government units to address mental health issues, encourage positive psychological practices and try to prevent suicide and improve mental health situations, among others.
The activities include face-to-face consultations, uploading videos on mental health, symposia or webinars and opening a 24/7 hotline service for residents who seek professional mental advice.
A mental health center was also established at the Gov. Roque B. Ablan Sr. Memorial Hospital to provide psychological consultations to in-patients, especially those who tested positive for Covid-19.
A helpline to make mental health support services more accessible and available was also launched, in partnership with certified counseling professionals across the province.
"Let's lend a helping hand while we can. Let's look after all of those around us. This is a dark time for some people, but rest assured that there are sunny days ahead. To everyone, kapit lang, kaya natin 'to. This too shall pass," Governor Matthew Joseph Manotoc earlier said.
The DOH said at least 3.6 million Filipinos are facing mental health issues during the coronavirus disease 2019 pandemic, including depression, substance use disorders such as alcohol use disorder and mood disorders like bipolar disorder.
A DOH study also found that one of three Covid-19 patients in the Philippines was diagnosed with a mental health condition within six months of testing positive for the disease.
Government-mandated lockdowns to prevent the spread of the virus – and associated social isolation – have also aggravated existing mental health challenges. (PNA)
https://files01.pna.gov.ph/source/2022/12/07/divine-sevilla.jpg