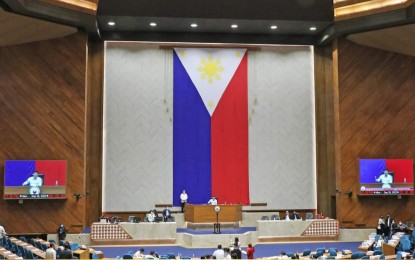 MANILA – A measure establishing a green public procurement program for all branches of government has hurdled second reading at the House of Representatives.
During Wednesday's plenary session, the chamber approved House Bill 6468, otherwise known as the Green Public Procurement (GPP) Act, which aims to promote the culture of making green, sustainable and informed decisions in the executive, judicial and legislative branches of government through sustainable production and consumption.
This bill is consistent with the country's commitment to the United Nations 2030 Agenda for Sustainable Development.
Camarines Sur Representative Luis Raymund Villafuerte Jr., the principal author of the bill, said the proposal also supports the 12th Sustainable Development Goal, which is "Sustainable Consumption and Production" that encourages the government departments, bureaus and agencies to procure goods with reduced damage to the environment.
Villafuerte said the GPP is contributing to sustainable development and the intention of the bill is just to set up a green program.
"Through this policy, governments can drive innovation and provide the industry with incentives to develop green products and services. Studies have also shown that green public procurement may provide financial savings for government purchasers considering the full lifecycle costs of a procurement contract," Villafuerte said.
The objective of the bill is to mandate all government departments, offices and agencies to establish their respective Sustainable Procurement Program which shall take into consideration the lowest life-cycle cost of products and services.
He said the bill aims to include a coding system for packaging materials and products to facilitate waste recycling and reuse.
Under the bill, a GPP Program must be established in all branches of government to achieve sustainable consumption and production in government procurement in accordance with the GPP Roadmap.
All agencies must comply with the green criteria provided by the Government Procurement Policy Board (GPPB), along with the other technical specifications required by the agency for the particular procurement.
The GPPB shall be mandated to implement capacity building and information, education and communication programs to develop capacities and enhance awareness and understanding on the implementation of the GPP program.
Budget and Management Secretary Amenah Pangandaman earlier cited the importance of implementing innovative and sustainable initiatives to achieve public procurement efficiency. (PNA)