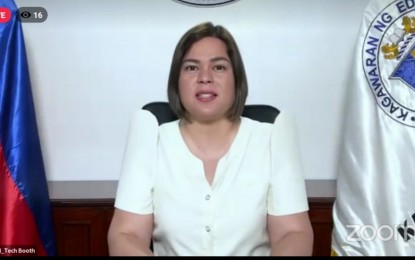 MANILA – Vice President Sara Duterte stressed Wednesday the value of reducing cybersecurity threats in the Philippines to boost its digital economy.
Duterte made the statement during an event of the Department of Information and Communications Technology (DICT), in partnership with the United States Agency for International Development (USAID), to present the "National Cybersecurity Talent Workforce Assessment Report of the Philippines."
In a recorded speech, Duterte emphasized the importance of the country's involvement in the digital economy, noting it is needed to perform in the international market.
However, she underscored the demand to improve the country's cybersecurity skillset to be safe and secure against digital risks.
"As more Filipinos go online to join the digital economy and benefit from the internet, we must ensure we are also taking action to minimize cybersecurity threats, and that we are building up a nation of cybercafe internet users," she said.
Duterte lauded the the DICT's cooperation with USAID to "elevate" the current status of the country's digital literacy and innovation.
"Our partnership with international donors such as USAID is strategic in that they, as global technology and digital innovation leaders, can transfer knowledge and expertise to improve the state of our digital infrastructure and ecosystem in the Philippines," she said.
She said expected outcomes of the copperation would cover "policy reforms for cybersecurity, risk-based cyber protection frameworks," as well as increasing the state's digital competence and reliability.
"It also elevates the digital consciousness of the Filipino workforce, encourages positive outcomes, raises awareness of the negative implications of irresponsible digital sharing, and increases individual awareness of the risks posed by cyber-compromise," she said.
Intercultural ties
Duterte also joined on Wednesday a preview of the general rehearsal of the Italian Opera Giacomo Puccini's "Turandot."
In a speech, Duterte lauded Italy's rich culture which was highlighted during the performance.
"To his Excellency, thank you for bringing back live opera in the Philippines and for giving our learners and their teachers this unique opportunity to personally experience watching a world-renowned Opera," Duterte said, referring to Marco Clemente, the Italian Ambassador to the Philippines.
Duterte also urged learners who were also invited to witness the performance to pursue their passion and creativity.
"Through this performance, we are not only giving a nod to the legacy of Italian opera, but we are also introducing it to newer generations who, I pray, would continue this tradition, and further promote it for future audiences," she said.
Around 800 learners and teachers witnessed the Turandot general rehearsal, according to the OVP. (PNA)