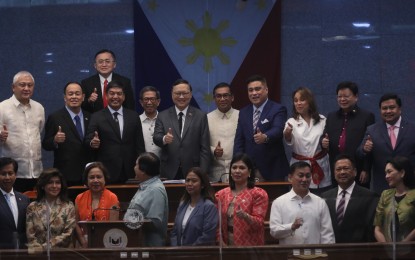 MANILA – The Commission on Appointments (CA) on Wednesday confirmed the appointments of three more Cabinet officials.
Department Secretaries Ivan John Uy of Information and Communications Technology (DICT), Raphael Lotilla (Energy or DOE) and Secretary Renato Solidum Jr. (Science and Technology or DOST) have secured their confirmation a week before Congress holds its Christmas break.
During the deliberation on his appointment, Uy told the body that he shares the vision of President Ferdinand R. Marcos Jr. in the digitalization of the country.
"When I had a discussion with His Excellency President Ferdinand R. Marcos Jr. about his vision on how digitalization can bring about our economic development, we did share a lot of things," Uy said.
He cited connectivity, access, e-governance, and cybersecurity as the priorities of the DICT under his leadership.
"Once we provide them with all these connectivity, access, all the facilities that they need, they will be exposed to scams, cybercriminals. So we need to build up our cybersecurity posture, our cyber defense capability to protect our country and our citizens from criminal elements that would take advantage of their naivety in using all these technologies," Uy said ensuring that he is up to the challenge.
Meanwhile, Lotilla stressed that Filipinos must be protected against price volatilities and supply constraints of power.
"The good news is that the transition over time offers opportunities for better and more affordable energy technologies. Decisions must be science-based in diversifying our energy sources. Data and the ability to analyze them, the determination to translate the analyses into sound public policies required," Lotilla told the CA.
He also expressed his eagerness to work with the President and Congress in maximizing the use of the country's indigenous energy resources.
"The Philippines has tremendous potential for renewable energy such as solar, wind, and ocean resources. We need to secure investments and access technologies to unleash that potential," Lotilla said.
"I appeal for everyone's cooperation, support, and understanding as the country undergoes the energy transition. The transition also offers promising opportunities for all of us, particularly the energy marginalized. The way out of the country's energy predicaments is for everyone of us to work together," he added.
Solidum, who has been with the DOST since 1984, vowed that he will continue to create initiatives that will benefit more Filipinos.
"Together with my colleagues from the department, we will push for the socio-economic agenda of the president so that the mission of DOST to provide maximum economic and social benefits for the Filipinos will be realized," he said.
A licensed geologist, Solidum started serving the government as the director of the Philippine Institute of Volcanology and Seismology (Phivolcs) from 2003 to 2017 and undersecretary of the department from 2017 up to early this year.
Aside from three Cabinet secretaries who were confirmed by the CA, 60 foreign service positions under the Department of Foreign Affairs (DFA), including former DFA Secretary and Philippine Ambassador to the United Kingdom Teodoro Locsin and Luli Arroyo-Bernas, the daughter of former President Gloria Macapagal-Arroyo, as the Philippine Ambassador to Austria have also secured their appointments. (PNA)