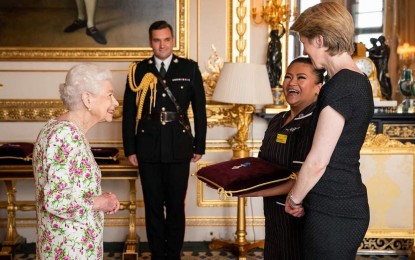 MANILA - Senators Imee Marcos and Grace Poe on Wednesday highlighted the pride and honor brought by May Parsons, the Filipina nurse who received the George Cross Award in the United Kingdom for being the one to administer the first dose of Covid-19 vaccine.
Marcos, who sponsored Senate Resolution No. 230, said the prestigious George Cross Award from Her Majesty, the late Queen Elizabeth II and His Royal Highness then Prince Charles, was given to Parsons for her courage, compassion, dedication, and bravery in the face of grave and mortal danger.
"It is yet another highlight in the extraordinary history of Filipino nursing and May today stands proudly in the llocana tradition of her mother Zenaida and Philippine Nursing's founder Anastacia Geron Tupas from 1922," she said in her sponsorship speech.
Born and raised in Pasay City, Parsons graduated from Jose Abad Santos Highschool and finished her nursing degree at the University of Santo Tomas (UST).
Meanwhile, Poe said that Filipino nurses, as heroes of the country's healthcare system even before the pandemic, deserve not only praise but also higher perks and pay.
Poe made the call as she commended Parsons in a separate resolution (No. 347) which also reaffirms the role of Filipino nurses in the global healthcare scene.
"Tunay na isang inspirasyon si Nurse May sa buong (Nurse May is a real inspiration for the whole) nursing profession. Like her peers in the health sector, her commitment to saving lives, delivering the best care possible, and creating a better and healthier future is truly commendable and worth these recognitions," Poe said in her speech.
The lawmaker said her resolution should not only be about recognition and commendation for Parsons from the government.
"Hindi lang dapat bragging rights ang ambag ng gobyerno dito (The government should not only contribute bragging rights). Our nurses can only do these heroic sacrifices to the extent that they are taken care of. We need to resuscitate our nursing profession," Poe said.
"We should give back not just in terms of recognition but also in terms of actual benefits to make the nursing practice a genuine livable career for practitioners. Upgrading the minimum salary of nurses is the least that we can do for the sacrifice they gave in nursing us all back to health," she added.
Parsons left after three years of working at the UST hospital to join the United Kingdom's National Health Service. She has since been with the University Hospital's Coventry and Warwickshire and is presently a Modern Matron for Respiratory Services. (PNA)