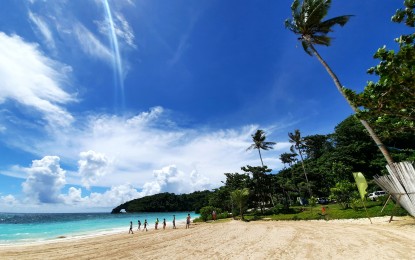 MANILA – Japanese tourists are encouraged to visit and experience the now fully opened Philippines.
The government had been doubling efforts to attract more Japanese to the country, who had been its fourth top market prior to the pandemic.
Arrivals from Japan reached 682,788 in 2019 but figures dramatically went down to 136,664 in 2020 and 15,024 last year as coronavirus compels countries to shutter borders.
But hopes are up this year, with inbound travel starting to pick up since the Philippines reopened borders in February.
From February to October 2022 alone, data from the Department of Tourism (DOT) showed that some 65,080 Japanese nationals visited the country.
Philippine Embassy in Japan Chargé d'Affaires Robespierre Bolivar, for his part, is confident this upward trend would continue.
"Over the last two years, you've seen the wonder of the Philippines," he said.
"If you've been amazed by what you've seen in the promotional posters and videos, how much more awesome, unique and fun would it be to experience it up close and personal?" he added.
Bolivar made the invitation last week together with a Philippine tourism business delegation that visited Tokyo and Osaka from Nov. 28 to Dec. 4.
During said mission, Tourism Undersecretary Shereen Gail Yu-Pamintuan declared that the Philippines is now open for business and unveiled the Department of Tourism's (DOT) new initiatives on safe, sustainable tourism and cultural and heritage promotion.
Tourism Promotions Board (TPB) Chief Operating Officer Maria Margarita Montemayor-Nograles particularly invited the Japanese to consider the Philippines as their next holiday destination, especially during the Christmas season.
The mission traveled to Japan to bridge Filipino travel and tourism suppliers and their Japanese counterparts to initiate and enhance business partnerships.
Almost 200 representatives from the Philippine and Japanese travel sectors participated in the business-matching sessions, according to the Philippine Embassy in Japan.
Over 300 guests, including Japanese TV and social media celebrities, meanwhile, attended an evening reception on Dec. 1. (PNA)