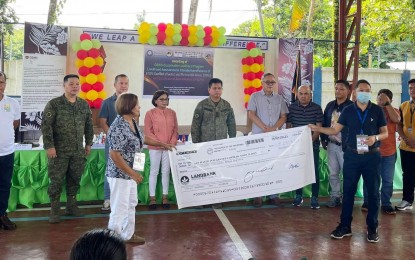 TACLOBAN CITY – The Department of Social Welfare and Development (DSWD) regional office here turned over on Wednesday some PHP2.1 million worth of Sustainable Livelihood Program (SLP) funds to associations from seven villages in Borongan City and Maydolong in Eastern Samar.
Each association got PHP300,000 in livelihood assistance, Office of the Presidential Adviser on Peace, Reconciliation and Unity (OPAPRU) Eastern Visayas manager Imelda Bonifacio said.
These associations are in Canyupay, Banuyo, San Gabriel and San Mateo villages in Borongan City; San Gabriel, Tagaslian and Canloterio villages in Maydolong town.
"These communities were identified as conflict-affected and vulnerable, hence, the project intends to provide an opportunity to engage both private and public sectors, promote transparent and accountable governance and provide a venue for a local conflict-resolution mechanism and opportunities to promote peace and social cohesiveness within their respective organizations and communities," Bonifacio said in a phone interview.
"This is a DSWD-funded project in support of the whole-of-nation approach to end local armed conflict. Our role is to identify the areas to receive the livelihood assistance and also assume oversight and coordinative functions," she added.
Livelihood funded under the assistance includes agri-feeds business, rice trading and hog raising.
Aside from officials of the OPAPRU and DSWD, also present during the turn-over were Maydolong Mayor Godofredo Garado of Maydolong, Jojo Acla representing Mayor Jose Ivan Dayan Agda of Borongan City, military and police officials and village chiefs.
Also present were representatives from the Philippine Information Agency, Technical Education Skills Development Authority, Department of Trade and Industry and Department of Agrarian Reform.
"The agencies mentioned were part of the process of capacitating partners during the social preparation activities and during its implementation. Inter-agency complementation highlights the implementation. It's not just promoting social cohesion, but it also improves governance and accountability through its local conflict resolution mechanisms. The SLP support increases family incomes thereby making insurgency irrelevant," Bonifacio said.
To ensure that the beneficiaries will be using the assistance for the intended purpose, monitoring will be done regularly by the local government and DSWD, she added. (PNA)