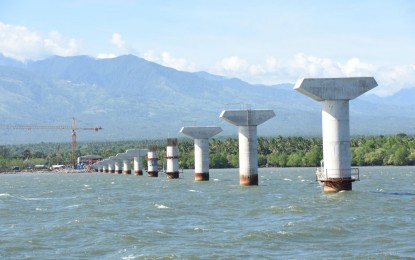 MANILA – The construction of the longest sea-crossing bridge in Northern Mindanao is now 61 percent complete, the Department of Public Works and Highways (DPWH) said on Thursday.
DPWH senior undersecretary Emil Sadain, who supervises the construction of the PHP7.3 billion Panguil Bay Bridge project that will connect Tangub City in Misamis Occidental and Tubod town in Lanao del Norte, led the inspection on Wednesday and vowed to complete the project in December next year.
Sadain said the project, which began in February 2020, is part of DPWH's continuing Build Better More Program.
"The bridge costing PH7.375 Billion, financed by a loan agreement between the Government of the Philippines and Korean Export Import Bank not only represents a long dream come true of the people of Lanao Del Norte and Misamis Occidental but a milestone highlighting how the design and construction of a modern bridge with sea offshore excavation depth of up to more than 50 meters has evolved," he said in a statement.
The construction started following the full completion of all 54 bored piling works to allow the start of construction of the 36 abutments and pier column, 32 coping, and begin on both ends at Tubod and Tangub City the incremental launching method (ILM) for the superstructure.
While construction by about 336 manpower takes place round-the-clock to complete the project by December 2023, the bridge construction was affected during this last quarter of 2022 by the often rainy weather and strong currents of Panguil Bay.
But Sadain was hopeful that they will complete the project in due time.
Once completed, Panguil Bay Bridge will reduce the travel time between Lanao Del Norte and Misamis Occidental from two hours to just seven minutes.
Officially started in February 2020, the design and build of the structure have been pushed back attributed to the work restrictions imposed by the government at the height of the pandemic. (PNA)