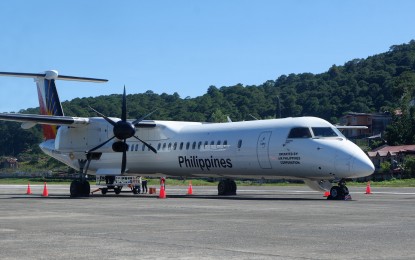 BAGUIO CITY – With just eight days to go before the resumption of flights at Loakan Airport, flag carrier Philippine Airlines (PAL) on Thursday said it has put in place contingency plans in case of visibility issues that will cause the cancellation or suspension of a flight for the Cebu-Baguio and vice versa route.
PAL spokesperson Cielo Villaluna said in case of visibility issues, planes coming from Cebu will have to return or diverted to Clark until such time that the weather clears.
"After a flight is diverted and the weather clears, the flight will resume. If the flight cannot operate due to weather factors, passengers will be accommodated on the next available flights," Villaluna said in a text message to the Philippine News Agency.
Several areas of the Cordillera Administrative Region (CAR), including this city, experience zero visibility as a result of fog, especially in the afternoons, and at times in the early morning.
PAL is returning to Baguio after almost 30 years when the flight to the route was suspended.
The four-times-a-week direct flight from Cebu to Baguio and Baguio to Cebu starting Dec. 16, 2022, will depart from Mactan, Cebu at 8:50 a.m. and will be at the Loakan airport at 10:50 a.m. and will leave the city for Cebu at 11:10 a.m every Monday, Wednesday, Friday and Sundays.
"Philippine Airlines would like to establish connectivity between the Visayas and Northern Luzon. Northern Luzon residents will now be able to connect to Cebu via our two hours flight, and enjoy the Queen City of the South. They can also travel to various domestic points and international destinations from Cebu," Villaluna said.
"Our target passengers are local tourists, residents of Northern Luzon and Central Visayas, as well as foreign travelers," she added. (PNA)