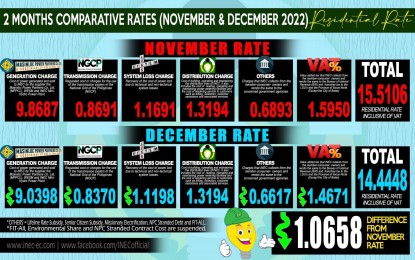 LAOAG CITY – Households in Ilocos Norte can expect another round of lower electricity bills this month after power rates dropped by over PHP1 per kilowatt-hour (kWh).
Noel Andres, spokesperson of the Ilocos Norte Electric Cooperative (INEC), confirmed this on Thursday as the overall electricity rate in the province dropped by PHP1.0658/kWh to PHP14.4448/kWh in December from PHP15.5106/kWh in November.
"The continuing reduction of power rates in the province is now the result of a greater collaboration between the cooperative and the provincial government led by our Governor Matthew Joseph Manotoc," Andres said in an interview.
Last month, power rates in the province also dropped by PHP2.3860/kWh.
Except for the distribution charge which remained at PHP1.3194 in December, all additional charges which include generation, transmission, system loss, value-added tax and other collections of INEC to consumers were reduced based on the comparative residential rates of November and December 2022.
The collection of the National Power Corporation's stranded debt, FIT-All, and environment share were also suspended.
The reduction of power rates in the province since November came following a series of complaints about the exorbitant charges that INEC collects from consumers in the past few months, despite being known as the renewable energy capital of the Philippines.
To date, the INEC is getting its supply from Masinloc Power Partner Co. Ltd, Wholesale Electricity Spot Market, and its mini-hydropower plant in Pagudpud town. (PNA)