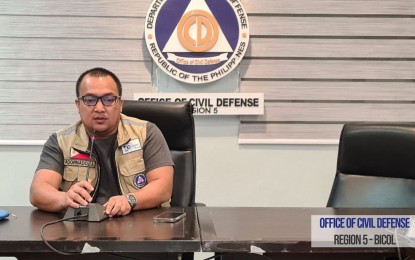 LEGAZPI CITY – The Regional Disaster Risk Reduction and Management Council (RDRRMC) in Bicol has placed all disaster response offices on red alert to prepare for the impending threat of a low pressure area (LPA).
The LPA was spotted 870 km East of Mindanao and shall be named "Rosal" once it becomes a tropical depression.
Office of Civil Defense (OCD)- Bicol DRRM division chief Jessar Adornado said the alert status was raised after the presentation of key agencies, led by the Philippine Atmospheric, Geophysical and Astronomical Services Administration (PAGASA) during an online regional pre-disaster risk assessment meeting on Thursday.
"It could be a possible move for the council as a whole or by the agency to help different provinces and we will now activate again our virtual Emergency Operations Center (EOC), may we ask PAGASA, Mines and Geosciences Bureau and Philippine Institute of Volcanology and Seismology to present with us on the virtual EOC, this will be continued until we lift our red alert status for DRRMC Bicol," Adornado said.
Melvin Almojuela, the weather forecaster of PAGASA Southern Luzon Division, said the weather disturbance will bring moderate to heavy rains as early as Dec. 9 in Bicol Region.
A tropical cyclone wind signal (TCWS) will also be raised in the affected provinces once it develops into a tropical depression in the next 24-48 hours.
Mark Miraballes, Geologist of MGB-5, meanwhile, presented the high-risk areas for landslides and discussed the rainfall accumulation in the past six days.
He reminded the participants of the effects of landslides on communities residing in high-risk areas.
Gremil Naz, OCD-Bicol spokesperson, said in an interview a red alert is the highest level of coordination and monitoring among stakeholders.
"Under the red alert, there will be activation of the response clusters in the region, leading to evacuation for residents living in high-risk areas by the local DRRM councils, communication of weather-related advisories to the community level by the provincial DRRM councils and LDRRMCs, and reiteration of social behaviors and hygiene measures in evacuation centers and response activities in relation to the Covid-19 pandemic and close monitoring of areas of responsibilities by the LDRRMC chairperson," he said. (PNA)