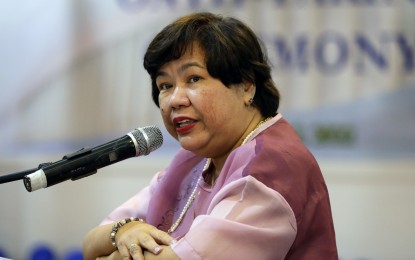 MANILA – The Department of Migrant Workers has shut down a travel consultancy firm in San Fernando, Pampanga, as well as its offices in Santiago City, Isabela and Tabuk City in Kalinga, for offering bogus jobs in Poland.
In a press release issued on Thursday, Migrant Workers Secretary Susan Ople said IDPLumen Travel Consultancy Services was closed on Wednesday in a simultaneous operation by the Anti-Illegal Recruitment Branch (AIRB) of the Philippine Overseas Employment Administration (POEA) in coordination with local government officials and police units in the respective cities.
Ople said the travel consultancy service was found charging as much as PHP122,000 processing fee from their prospective job applicants under the option of regular upfront payment, or a "fly now, pay later" scheme.
"Please do not transact with travel consultancy firms offering jobs abroad. Illegal recruitment 'yan. May naghihintay na one-way ticket sa kulungan ang mga nagpapatakbo ng ganyan (They are illegal. A one-way ticket to jail awaits those who operate these activities)," she warned.
Ople said that prior to the actual closure, surveillance operations were conducted by the AIRB which revealed that IDPLumen, under the guise of a travel consultancy firm, offered jobs in Poland for truck drivers, welders and factory workers with monthly salaries ranging from PHP35,000 to PHP124,000.
Ople clarified that IDPLumen Travel Consultancy Services does not have a license from the POEA to operate as a recruitment agency.
She said it does not have any validated overseas job orders.
Ople added illegal recruitment charges will be filed against IDPLumen.
Meanwhile, victims of the said agency are urged to get in touch with the DMW so they may be assisted in the filing of cases against the agency.
With its closure, IDPLumen and its staff will be included in the DMW's "list of persons and establishments with derogatory record" and will be barred from participating in the government's overseas recruitment program. (PNA)