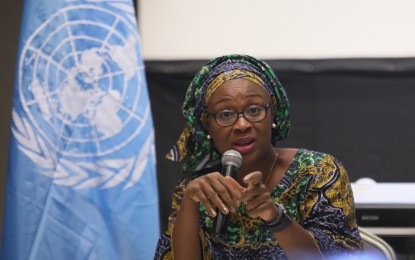 MANILA — A United Nations Special Rapporteur recognized Manila's commitment to address the scourge of sale and sexual exploitation of children.
Mama Fatima Singhateh, the UN Special Rapporteur on sale and sexual exploitation of children, including prostitution, pornography and other forms of child sexual abuse, is in the Philippines upon government invitation from Nov. 27 to Dec. 9.
"The invitation, cooperation and collaboration provided during my visit indicates that there is commitment to address the scourge of sale, sexual abuse and exploitation of children in light of the needs of communities and survivors," she told reporters in a briefing Thursday.
"I am encouraged by the significant efforts made and work undertaken by the government over the past few years. I am also hopeful that the efforts will be advanced further subsequent to my visit," she added.
Among her initial recommendations were the creation of a children-specific court, increased attention to travel and tourism-related sexual exploitation, as well as a centralized data system.
Establishing a reliable database on child abuses, Singhateh said, is key to gauge how effective current interventions are.
Meanwhile, there had been a lot of focus on combatting online abuses but attention "has not been adequate" on transactional sex and travel and tourism-related sexual exploitation of children, she said.
"Child sexual abuse and exploitation should be seen holistically. The risk of focusing too much on one part is you're creating a gap for children," she added.
The UN expert suggests raising awareness among the public that not all exploitation is committed online.
"I'm just highlighting on sexual abuse and exploitation in the context of travel and tourism, and transactional sex because I didn't hear the government talk much about it. So that means if the government is not talking about it, that means interventions that are being used are not focused on that areas," she said.
Prior to the presser, Singhateh paid a courtesy call on Justice Secretary Jesus Crispin Remulla who himself reiterated Manila's commitment to strengthen efforts to address child sexual exploitation.
Singhateh's visit had been in the works for at least a year, according to the UN Office of the High Commissioner for Human Rights (OHCHR) Philippines.
She is expected to come up with a detailed report following the trip. (PNA)